Earn Your Fashion Merchandising Degree Online
Take the first step toward turning your love of fashion and design into a career with Penn Foster College's online, self-paced Fashion Merchandising Associate Degree. Learn about the development, merchandising, marketing, and promotion of apparel while you hone your sense of fashion, expand your creativity, and develop foundational business skills from home, around your schedule.
Why Work In Fashion Merchandising?
Fashion merchandisers are a crucial part of the industry, working as buyers, product managers, designers, and merchandise display artists in a variety of settings. With the opportunity to work in a variety of positions and companies, there's no better time than now to start your fashion merchandising education with Penn Foster's affordable online associate degree. You can prepare for a rewarding career that allows you to combine your passion for fashion with business skills from home, when it's convenient for you.
Why Choose Penn Foster College?

Affordable
At up to $79 per credit, and 3 easy payment plans to choose from, we can help you fit college into your budget.

On-Demand Learning
No set class schedules so you set the pace and study when you can. Access instructors and coaches through text, phone and email or chat with fellow classmates online.

Prepare for in-demand careers
You can gain the knowledge, skills, and credentials to move toward success along a new or existing career path.

Mobile-Friendly Flexibility
Our 24/7, on-demand learning platform is easy to use – at home or on the go – and you decide when to start and take your classes.

Personalized Goal Tracking
With our progress-tracking and goal-setting tools, you can customize your study and exam schedule to help meet your personal goals.

All-Inclusive Program
Connect in real-time with your peers in your career area in our discussion boards.
A Customized Learning Experience
With interactive, mobile-friendly courses, progress-tracking and goal-setting tools, and personal coaches to help you succeed, the Penn Foster Experience (PFx) is an online learning experience like no other!
Fashion Merchandising Associate Degree Course Details
Penn Foster's Fashion Merchandising degree can help students like you prepare for an entry-level career in the fashion and retail industries. Our flexible course covers information necessary to the field including an introduction to the fashion industry, color theory, the history of fashion, and consumer behavior.
Fashion Merchandising Tuition
With flexible, affordable payment options, you can get started on your Fashion Merchandising Associate Degree online today.
I would recommend that anyone looking for an education in any of the areas Penn Foster offers to give it a try. It's very affordable and it's convenient to study from home. I work full time, so this is perfect for me. Customer service is very responsive and the educational materials are very comprehensive. I have a Bachelor of Science Degree and have experience in both a brick and mortar environment as well as this distance learning experience.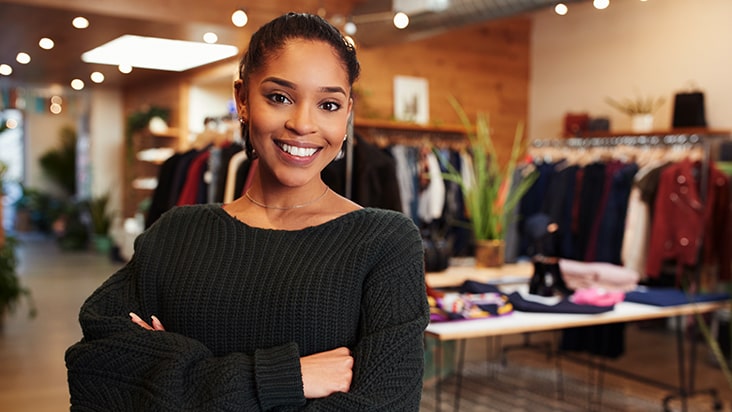 Ready To Enroll?
Get started on your path toward a new career in fashion merchandising with Penn Foster College's nationally accredited online degree program.
Enroll Now
Hundreds of leading employers and workforce organizations partner with Penn Foster to attract, develop, and retain talent for today's in-demand middle skilled occupations.