Get ahead of the competition with security guard training
Learn the skills to help you prepare for an exciting career in security services. With our online, self-paced Security Guard training program, you can study when you want, where you want, and at the pace you want.
Why become a Security Guard?
Learn the on-the-job skills - like guarding, patrolling, and preventing theft - that can help you pursue a career as a security guard. Plus, with nearly 55,000 positions expected to be created over the next few years, now is a great time to consider entering the security services field.¹
Why Choose Penn Foster Career School?

On-Demand Learning
Do not wait for a class to start — you decide when to begin with our on-demand learning platform.

Your Coach
You will be assigned a Success Coach who will help you be successful and tap into any resources you need like instructors, teaching assistants or online help options.

Mobile Friendly
Take our Security Guard program with you wherever you go. Our custom-designed student learning platform is easy to use at-home, or on-the-go.

Personalized Goal-Tracking
With our progress-tracking and goal-setting tools, you can customize your study and exam schedule to help meet your personal goals.

Our Experience
With 44,000 graduates in 2017 from our regionally and nationally accredited High School and Career School and nationally accredited College, you're in good hands!

Connect with Other Students
Connect in real-time with your peers in your career area in our discussion boards.
A Customized Learning Experience
With interactive, mobile-friendly courses, progress-tracking and goal setting, and personal coaches to help you succeed, the Penn Foster Experience (PFx) is an online learning experience like no other.
Security Guard Course Details
Our Security Guard training program covers topics such as security guard conduct, arrests and detention, investigations, and more to help you succeed in the security services field.
Tuition
With flexible, affordable payment options, you can get started on your safety officer training today.
I always recommend Penn Foster to others because its an affordable and flexible way to get an education.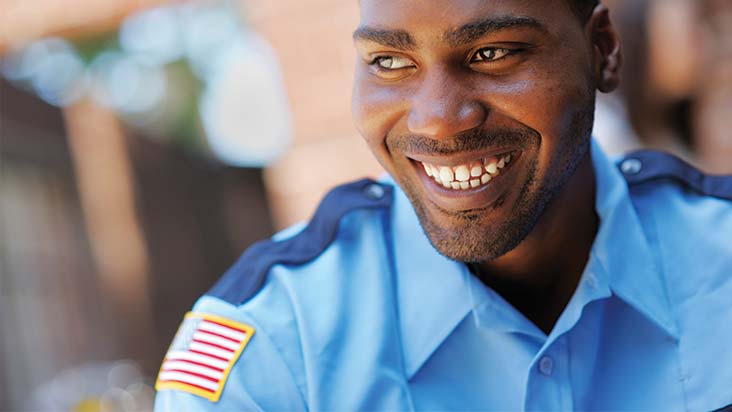 Ready To Enroll?
Get started today on your path towards an exciting career in security services with Penn Foster Career School's accredited, online program.
Enroll Now
Hundreds of leading employers and workforce organizations partner with Penn Foster to attract, develop, and retain talent for today's in-demand middle skilled occupations.