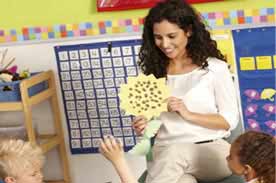 If children are the future, then today's teachers and child care workers play a major role in shaping what our society will look like for years to come. At Penn Foster College, we help those who work closely with young children gain foundational knowledge and skills in early childhood education.
We're happy to announce the launch of our new Undergraduate Certificate in CDA Credential Preparation program. This college-level program offers a foundation for students who wish to work in the early childhood field as they work toward earning a Child Development Associate (CDA) credential, the most widely recognized credential in early childhood education.
The First Step to Your New Career in Education
As a student in Penn Foster College's new Undergraduate Certificate in CDA Credential Preparation program, you'll complete 120 formal, college-level education hours, as well as put together a professional portfolio, both requirements for your CDA credential.
You'll also be able to choose from the following settings to get the education that aligns to your career goals: Infant/Toddler, Preschool, and Family Child Care. Upon completing the program, you'll be able to transfer many of your credits to Penn Foster College's Early Childhood Education Associate degree program, if you choose to further your education with us.
A Growing Field
Employment for child care workers and teacher aides/assistants is expected to reach nearly 3 million jobs by 2022.¹ If you'd like to work toward earning your CDA credential that allows you to work closely with children and make a real impact, Penn Foster College is a great place to start.
We'd be happy to answer any questions you may have or help you enroll and get on your way toward a career that allows you to make a difference. Contact us today to learn more.
¹ http://www.bls.gov/ooh/personal-care-and-service/childcare-workers.htm, http://www.bls.gov/ooh/education-training-and-library/teacher-assistants.htm - Statistics found in the United States Department of Labor Occupational Outlook Handbook are based on national data, so job growth in your area may be different, and post-graduation salary depends on educational background, level of experience, and geographic area of the country.