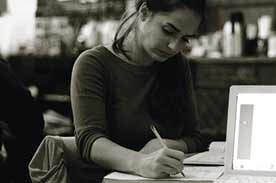 Tips from the Penn Foster Student Body
There are many wonderful advantages to pursuing an online education. Convenience, flexibility, and affordability are among the most popular reasons why students choose an online school over a traditional school setting. With all these great advantages can also come some challenges, especially for those students new to online education.
Taking a page out of Stephen R. Covey's best-selling book The 7 Habits of Highly Effective People: Powerful Lessons in Personal Change, we asked our students to tell us what they think is the single most important study habit an online student needs to exhibit in order to be successful in school.
According to our recent Student Community Poll*, here is what Penn Foster students have to say about the top seven habits every online student should embrace:
Habit #1: Prioritize, make a schedule, and follow the plan
Setting schedules is especially important in an online environment where you – not a teacher or facilitator – are empowered to make schedules and set deadlines that work for you.
"I've always done better with online courses because I like to follow a schedule that I can somewhat control. I set priorities during the week, make a schedule, and then I do what I know I need to do. Work always comes first, and then after I get home I wind down a bit, then straight to my school work."
Habit #2: Focus on one thing at a time
It can be difficult at times to see the forest through the trees, but the very nature of online school is that that you can progress at the pace that's right you. Take it "one chapter at a time" and move on to the next when you are ready.
"Don't worry about rushing through to the next thing or worrying about what your next step is. Take your time to read each chapter and really understand and let it sink in what each chapter is about and what you have learned."
Habit #3: Be a master of time management
Online students typically have busy schedules and are often juggling family, work, and other obligations along with school. Making time to fit in studies can sometimes be challenging, but is imperative.
"If you are talking an online class, responsible time management is key. You have to make time between family, work, and other duties. This includes finding appropriate times to accomplish school work when you won't be distracted easily. For me, I work 10 hour days so doing school and work on the same day would be overload. Pick and choose your times wisely. And then stick to it so you don't fall behind."
Habit #4: Don't let pride get the better of you. Ask for help if you need it
Simply put, no question is a stupid question and in many online schools like Penn Foster, fellow students and expert instructors are just a click (or call) away.
"Because sometimes, it just takes help from others…"
Habit #5: Begin with the end in mind. Set realistic goals
Successful online students always keep the end goal in mind while setting and celebrating "mini-goals" and accomplishments along with way.
"Education is a means to an end. Get and stay excited about the path you are on and the improvements that will come as a result of your hard work."
Habit #6: Stay organized
De-clutter your workspace. Make sticky note reminders. Set your online study planner. Successful online students find the organization systems that work for them to stay focused on track.
"Staying organized makes me feel like I am in control. When I am organized and in control, I am less likely to become overwhelmed and more likely to stay focused."
Habit #7: Get enough exercise and sleep. Keep a healthy mind and body
Take good care of yourself. When you feel your best, you perform at your best!
"I have found that staying healthy, both mentally and physically, really just makes everything in life much easier. It keeps you positive, and being positive is an important key to having confidence in the school work you're doing and it leads you to do well and have less stress."
*Penn Foster Student Community Poll, January 2015
"Student Life" image by Terry Johnston is licensed under Creative Commons Legal Code