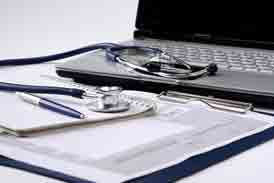 At Penn Foster Career School, we're always looking for ways we can improve and better serve our students. That's why we're so happy to announce changes to our Medical Billing and Coding diploma program. These changes are designed with your career in mind – they reflect the skills and knowledge today's employers are looking for. Here's what you can expect as a student in this program.
1. Great new program content
These days, true learning doesn't happen by simply reading a book. It happens with hands-on training, and a learning model that focuses on doing, rather than just studying. With that in mind, Penn Foster Career School's Medical Billing and Coding program has been updated to offer you even more ways to prepare for the career you want. New course content includes online simulations, virtual labs and 3D models – all designed to help you experience what it's like to work in the real world. Plus, you'll study both ICD-9 and ICD-10, the latest coding standards used by today's medical billing and coding professionals.
2. Classes that better prepare you for industry exams
Passing the Certified Professional Coder (CPC) Exam is a major step for anyone who wishes to work as a medical billing and coding professional. That's why our Medical Billing and Coding program now covers more practice questions to help you prepare to pass the exam.
3. A new course structure to help you succeed
Courses in our Medical Billing and Coding program are now organized into three categories: Basic, Intermediate and Advanced. This allows you to work your way through the program at a steady pace, with courses that become more challenging as you learn.
But those aren't the only great things about the program. Medical Billing and Coding students at Penn Foster Career School also receive a free one-year student membership to the American Association of Professional Coders (AAPC). This membership gives you access to more than 500 AAPC local chapter networking meetings, discounts on coding books, and access to research tools used by today's coding professionals. It can even save you $70 when you take the CPC certification exam.
Plus, you won't need to purchase any special software to complete the program, and the coding manuals that are included in your tuition are yours to keep to help prepare for the CPC exam.
If a career in medical billing and coding is in your future, Penn Foster Career School is a great place to start. Contact us today to learn more.