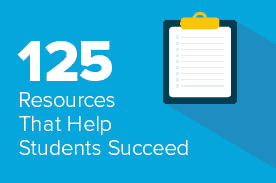 As we celebrate 125 years of educating the non-traditional learner, we've definitely learned a few things along the way. Among them is the importance of giving student the tools and guidance to achieve success throughout the education journey. Today's tech-savvy landscape makes access to top resources even more attainable to students across all landscapes and backgrounds. To continue in our efforts to improve outcomes for students and schools as well as the communities they serve, we've compiled 125 of the best resources for student success.
Over the past five weeks, we've looked at tools that can help students to better manage their time, websites and apps that provide academic support and guidance, resources to help motivate and inspire, tips for saving money as a student and so much more. Today, we compile all 125 of our resources for students in one master list. Check out the full list below and see how you can benefit from these low-cost – and often free – tools to help students succeed:
1-25: Time Management Tools
1. Timeful: Timeful is your calendar and to-do list all-in-one tool for gathering information from your habits and suggesting a schedule for optimal productivity.
2. 30/30: Use 30/30 as your innovative timer to complete specific tasks with a single sweep on your phone. 3. 2Do: 2Do offers a unique color-coding feature to visually help with prioritizing tasks.
3. 2Do: 2Do offers a unique color-coding feature to visually help with prioritizing tasks.
4. Super Notes: Super Notes enhances the note-taking experience. Recording lectures and taking photos eliminates the stress of jotting down notes in class.
5. Google Keep: Pin sticky notes to this sleek pinboard-style app to improve productivity.
6. RescueTime: RescueTime reveals habits and distractions that waste your time by providing time-management reports.
7. Remember the Milk: With Remember the Milk, you can effectively manage your tasks using many different devices.
8. Evernote: Evernote is a productivity tool app for capturing ideas, notes and images; even optimize with Remember the Milk for optimal time management.
9. Focus Booster: If you're the ultimate procrastinator, Focus Booster is your tool for eliminating anxiety and enhancing your focus.
10. Toggl: Toggl serves as a time-tracking solution for analyzing how much time is spent on a particular assignment or studying.
11. Pocketfree: Addicted to surfing the Web? Connect with Pocketfree to save interesting articles on the Internet to read at a later time.
12. Focus at Will: Focus at Will provides multiple music channels scientifically optimized to help with concentration and productivity.
13. Alarm Clock Plus V2 App: Use this app as an aid for waking up early and being on time. You can choose among various alarms like math problem solving, fade-in alarm and playlists.
14. Sleep Genius: Poor sleeping habits can affect your focus and brain function. Sleep Genius will help improve your rest to prevent procrastination the following day.
15. Spotify: Spotify is the ultimate music resource for tuning out distractions by creating custom playlists or listening to Spotify playlists like "Deep Focus" and "Zen Focus."
16. Finish: Finish centers on due dates. Rely on this tool to organize short-term, mid-term and long-term deadlines.
17. CARROT: Turn time management into a game. Play CARROT to earn points for completing tasks. But be prepared to lose points if you slack off.
18. Momentum: Turn your homepage into a sleek interface. This Chrome extension provides the time, an eye-catching photo, daily quote and minimal to-do list.
19. LeanKit: Create a customizable digital system for organizing and managing your studying, assignments and coursework.
20. Motivational Quotes: A little motivation can help refocus and boost your productivity, leaving no room for procrastination.
21. Strides: Strides keeps you on track by creating beautiful charts, tracking habits and providing flexible reminders to help you achieve your goal.
22. Moleskine Notebook: Moleskine notebooks are a stylish way to clear your head or journal your thoughts, just like literary legends Oscar Wilde and Ernest Hemingway.
23. Use the buddy system: Find a classmate who can help you meet a goal as a team. For example, dedicate a specific time for when you both complete an assignment together.
24. Planner and pen: Use an old-fashioned planner and pen to create to-do lists and deadlines. Crossing off tasks with a pen creates a feeling of accomplishment.
25. The word "no:" The word "no" is powerful! Don't be afraid to use it when you're tempted to hang out with friends instead of studying or doing homework.
26-50: Support and Guidance Resources
26. InstaEDU: For those moments when homework just isn't making sense, get help on-demand.
27. PrestoExperts: No need to leave your room, get online expert tutoring from LivePerson.
28. Smarthinking: Because one can never get enough online tutoring, here's another resource for on-demand student support.
29. Student-Tutor: Take it online or offline with this In-home and web-based private tutoring and standardized test preparation.
30. Cliff's Notes: Need a quick refresher on "To Kill a Mocking Bird"? Get free study guides for literature and other subjects here
31. SparkNotes: Get the latest news on Hollywood happenings while brushing up on "Romeo and Juliet." Plus, score some free study guides and test prep tools too.
32. Barron's: The definitive source for every study guide imaginable.
33. Meetup: Finding like-minded individuals to spend time with is a great way to establish a support system.
34. HomeworkSpot.com: Homework information portal organized by topic and grade level.
35. Fact Monster Homework Center: Help with popular subjects as well as writing, research, speaking and listening, and study skills.
36. Math.com: For those left-brain dominant, get math homework help online. (http://www.math.com/students/homework.html)
37. ULifeline: Therapy isn't always an option for students on a budget. This site provides online mental health resources to help with depression, anxiety and more.
38. Presto Experts: Balancing family responsibilities with school? Get online family help here.
39. Forums at PsychCentral: Online Discussion boards to get support from people going through similar experiences as you.
40. Helping Hands for Single Moms: Community-based nonprofit that empowers single moms in their pursuit for a college education and financial independence.
41. Friends of Quinn: Online community for students with learning disabilities.
42. International Student: Adjusting to a new school let alone a new country can be incredibly stressful. Ease the transition with these resources for international students.
43. Flashnotes: Guides, notes and video tutoring by students for students.
44. The Mindfulness App: Sometimes all we need is time to clear our mind from stress. The Mindfulness App helps you to reduce stress and increase well-being in just 20 minutes.
45. Creative Writing Prompts: When that English assignment just isn't happening. This resource can help beat writer's block and get the creative juices flowing.
46. Cram: Get ready to ace that final with digital flash cards. Make your own or borrow pre-made stack.
47. iSeek Careers: Online skills assessment; you tell them what you like to do, and they'll tell you what jobs you might like.
48. Casey Life Skills: A free tool to assess the behaviors and competencies you'll need to achieve your long-term goals.
49. Mind Tools: Online tools to help you have an excellent career.
50. Penn Foster Student Community: Looking to chat with other Penn Foster students and faculty? The Student Community is the place for just that.
51-75: Motivational and Inspirational Resources
51. Coach.me: As the ultimate productivity community, Coach.me helps you achieve your goals by showing progress and celebrating milestones.
52. MustacheStories.com: Visit this community of change-makers and read stories about the power of believing in your dreams.
53. "Need some motivation?" video: "You have to create the perfect time and the perfect opportunity." Play this YouTube video as a six-minute pick-me-up for reconnecting with your goals.
54. Pinterest: Create Pinterest boards of motivational quotes, the life you dream of and reasons for why you're getting an education. These boards can inspire and re-energize your mindset.
55. "Your Hand in Mine:" No greater song exists to boost motivation than "Your Hand in Mine" by Explosions in the Sky. Add it to a customized playlist of other meaningful songs.
56. Humans of New York: Use these tales and fascinating documentaries from true New Yorkers as inspiration to create your own impactful, one-of-a-kind story.
57. Nike Football Leave Nothing commercial: Die-hard sports fans, watch this Nike commercial as motivation for tackling challenges, pushing through and scoring big.
58. FaceTime: If miles separate you from friends, family, and study buddies, plan FaceTime meetups to share updates and find support. Don't have an Apple iPhone? Here's how to use FaceTime on your Android!
59. TED App: Need a study break? Watch riveting TED talks from "education radicals, tech geniuses, medical mavericks, business gurus, music legends and other remarkable minds."
60. "Lean In: Women, Work, and the Will to Lead" - Sheryl Sandberg, COO of Facebook, examines women's leadership roles in the workplace and empowers women with solutions on how to achieve their full potential.
61. StickK: Nothing can be as motivating as money. And by using this app, failing to reach your goal will cost you cash.
62. Rise: A lack of motivation can stem from poor health. Revive the health of your mind and body with Rise, your personal digital nutritionist.
63. Nike+ Training Club App: Beat lagging energy and sluggishness by reinvigorating your fitness lifestyle to also reinvigo-rate your approach to school.
64. GPS for the Soul: This app can help you replace stress and anxiety with harmony and balance. Find support to stay on course by connecting with music, poetry, breathing exercises and even pictures of loved ones.
65. Yoga RELAX: Burnout may cause your motivation to dwindle. Take a break from the books and engage in yoga postures to calm the mind and body.
66. Calm: Feeling overwhelmed can create demotivation. Step back from the stress and meditate with Calm to improve your mood, relax and recharge.
67. Talkspace Therapy: Talkspace connects you with licensed therapists who can provide advice and guidance to help you overcome challenges and keep up momentum.
68. Wonderful Day App: "Stay motivated, every single day." Wonderful Day helps ensure you don't break the chain and reach everyday personal goals.
69. Alarm Clock Xtreme: Set the tone for your day with a great morning. Alarm Clock Xtreme wakes you up with your favorite song to positively energize the start of your day.
70. LinkedIn: Use LinkedIn to connect with driven people who share career tips and insightful industry trends.
71. Figure: A free and fun music-making app for instant inspiration.
72. Your instructor's open door: Take advantage of your instructors' open-door policies. Visit their office or connect online for help overcoming obstacles.
73. Role model: Identify with someone whom you admire and use their personal story as inspiration for reaching their level of success.
74. Mentorship program: Explore a mentorship program at your school or online and surround yourself with positive influences who can guide you toward your goals, helping you achieve success.
75. Community service: If you're in a slump, volunteer in your community. Helping others creates positive vibes and the inspiration to re-engage with your personal goals.
76-101: Financial Planning Resources
76. Federal Student Aid: Education Department guide to financing education.
77. FinAid: Scholarships, loans, saving for school, and other aid.
78. BigFuture: College Board guide to paying for college.
79. National Association of Student Financial Aid Administrators: Professional financial aid advice.
80. SavingforCollege.com: 529 plans and other options.
81. How to Make Money while in College: Six income-earning strategies.
82. Beat-Tuition.com: 35 ideas for earning in college.
83. 6 Online Jobs for College Students: Ways to earn from home.
84. Junior Achievement Apps: Includes apps for calculating college costs.
85. Collegiate Entrepreneurs' Organization: Student entrepreneur network.
86. MyMoney.gov: Personal finance basics.
87. Mint.com: Web-based personal financial services app.
88. DaveRamsey.com: Budgeting and debt management.
89. Bankrate: Financial literacy foundations.
90. Nolo Personal Finance: Budgeting, saving, investing, and other topics.
91. Consumer Reports: Personal finance and smart shopping.
92. Wise Bread: Living large on a small budget.
93. America Saves: Starting small while thinking big.
94. ChooseMyPlate.gov: USDA guide to healthy eating on a budget.
95. HUD.gov: Buying a Home Guide: Start planning your first home purchase.
96. Jonathan D. Pond: Expert advice from "America's Financial Planner."
97. Kiplinger: Personal finance and business forecasts.
98. The Motley Fool: Stock investment advice.
99. CNN Money: Personal finance advice and planning tools.
100. Quick Links for Consumers & Communities: FDIC news and tips.
101. LendEdu: How College Students Can Find Funding for Their Business.
102-126: School Tools and Supplies
102. World Book Online for Schools: A diverse suite of learning sites for every age, ability, and interest to suit the needs of all students in your school.
103. GIMP: New graphics students may struggle with costs of downloading popular design suites. GIMP offers a free-alternative for full-featured photo editing that's comparable to Photoshop.
104. All Free Samples: Comprehensive list of free sample products including computer products and school supplies.
105. Abebooks.com: Free shipping and a way to shop 13,500 online booksellers at once.
106. The Library of Congress Research Tools: You don't have to live in DC to have access to the Library of Congress resources.
107. Encyclopedia.com: Search over 100 resources.
108. Encyclopedia Brittanica: Online edition of the classic reference.
109. Zotero: A bibliography manager that integrates with Firefox, enabling automatic upload of webpages and resources to your bibliography.
110. World Atlas: Explore the world with this online map.
111. Project Gutenberg: Public domain books.
112. BookFinder: Search over a hundred online bookstores for used or affordable copies of your required texts.
113. OttoBib: For non-digital sources uses, OttoBib lets you enter the ISBNs of all the books you used in a paper to ease the "works cited" process.
114. Addall.com: Compares textbook prices across the web.
115. OpenOffice.org: Word processor, spreadsheet, presentation software and graphics editor programs compatible with most Microsoft Office programs. And, best of all, it's free!
116. BetterWorld.com: Save money on textbooks while helping those in need. Better World matches every purchase on their website with a book donation to someone in need.
117. Pew Research Center: Research database presenting facts on issues, attitudes and trends shaping America and the world.
118. FreeMind: Great mindmapping program, useful for brainstorming, outlining projects, and keeping notes.
119. Mozy Backup: An Internet-based backup system that enables up to 2GB of file storage for free.
120. J-Stor: Digital library of academic journals, books, and primary sources.
121. Dictionary.com: Comprehensive digital source for everything related to words.
122. GoConqr: A sharing app where students and teachers can upload and organize class notes, flash cards, mind maps, quizzes, and more.
123. The Simple Dollar: This list shows students where student ID's can be shown for discounts on everything, including tech supplies.
124. Vistaprint: For students on the hunt for internships or job opportunities, business cards are a valuable networking tool. Get them free at Vistaprint.
125. Codecademy: Free coding lessons for all levels of learners.
126. Duolingo: Learn any language, for free, on the go with this interactive app.