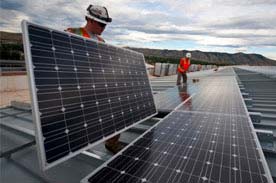 If you're considering adding solar installation to your list of skills, now might be the perfect time. Growing demand combined with breakthrough new technology is making solar a go-to technology for power generation.
The industry is booming. Its global value is expected to reach $422 billion by 2022 up from $86 billion in 2015, a new type of solar cell is about to hit the market, and Tesla's solar power panels are even coming to a Home Depot near you.
Learning to install and service solar power generation systems can boost your overall income and make you a more attractive job candidate.
The solar power job market
Companies and individuals are looking to solar power as a source of sustainable power for the future.
The number of solar power installations, and the amount of power demanded, rose steadily between 2015 and 2017. Overall the global solar market grew 26 percent in 2017 according to Green Tech Media.
Although new tariffs may dampen the market in the first half of 2018, new high-efficiency equipment is likely to boost market share overall. In fact, total capacity is expected to double between 2018 and 2023. That translates to more jobs for solar installers and other solar power industry professionals.
For years, the United States has been one of the world's largest consumers of solar power, second only to China.
Within the United States, solar power demand varies from region to region and state to state. Between 2018 and 2022, California will likely use more solar power than any other state. Nearly three times more than what is forecasted for Florida and Texas, the next highest demanding states. These are followed by North Carolina, Arizona, New York, Nevada, and Georgia.
So if you live or work in any of those states, solar is likely a good add-on to your skill set.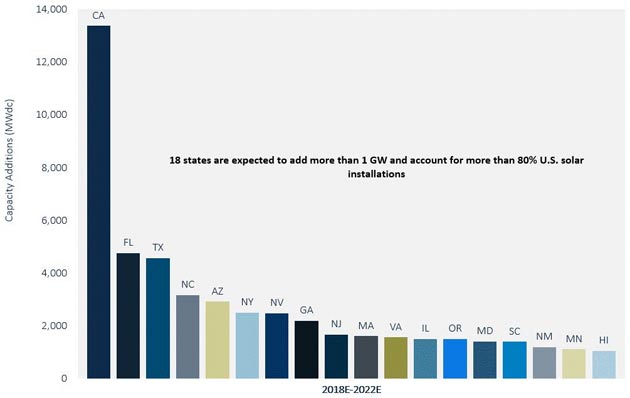 This graph from Green Tech Media gives forecasts for the states expected to be among the top 18 solar power demanding states in the U.S. between 2018 and 2022.
Customers in the United States pay more for solar than customers in any other developed country, followed closely by Japanese Customers. And yet, solar is one of the least expensive options for new power generation, lower than the cost of most fossil fuel options. Companies are searching for ways to further reduce customer cost to make solar an even more attractive prospect for customers.
Companies are looking for skilled workers to help meet the demand. According to the Solar Jobs Census 2017, eighteen percent of solar employers said it was very difficult to find qualified candidates for open positions.
What kinds of jobs are available?
Between 2012 and 2017, solar employment grew 110 percent. That's nine times faster than the overall U.S. Economy. If you're looking to get a new job or increase your income, solar might be the solution for you.
Wages in the solar industry are competitive with similar industries and are higher than the national average. For installation companies, the mid-level installer wage is about $20 per hour. So pursuing certification makes economic sense.
There are two main types of solar installation jobs: Solar PV and Solar Thermal.
Solar PV Installation (prior background as electrician)
Solar PV stands for Solar Photovoltaic. Photovoltaic technology uses semiconducting materials to convert light into electricity. Traditional solar panels are photovoltaic. New technology is making them smaller and more efficient. Instead of traditional silicon, companies are using solar inks, dyes, and plastics. The result is solar roofs, hot water heaters, and large-scale solar arrays.
Solar Thermal Installation (prior background HVACR and plumbing)
With solar thermal, the heat from the sun is used to heat fluid. The resulting steam powers generators that produce electricity. Solar thermal is used for both residential and commercial applications. It might be used to generate electricity for a whole city, or to heat the hot water in your house.
Specialized installers are needed to safely and efficiently install both types of systems. As an installer, you will assemble, install and maintain solar systems. Most of your work will take place on rooftops, but you may need to access attics and crawl spaces to connect electrical and plumbing systems.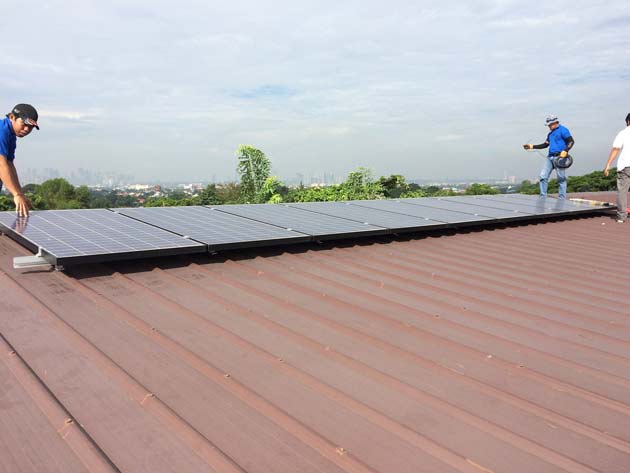 How do I get started in solar?
The good news is, most companies don't require a bachelor's degree for solar power installers in either Solar PV or Solar Thermal. So the path to becoming a solar power installer is shorter than the path to many other careers.
If you're already working in the skilled trades, solar power is a natural add-on to your skill set. Many of your skills will translate to the solar power industry. In fact, adding solar can expand your employment opportunities if you're looking for employment as a plumber or electrician. If you own your own business, adding solar power can create a new revenue stream that boosts your overall business income.
More and more homeowners are looking for alternative energy sources to heat and power their homes. Business owners are looking to save money and reduce their carbon footprint. By training as a solar power installer, you'll be ready to meet their needs.
You can take a two to six month certification course that will prepare you to be a either a Solar PV installer, Solar Thermal installer, or both. At Penn Foster, the online curriculum includes an orientation to solar technology, an introduction to components, and sections on installation and troubleshooting.
Depending on which state you live in, you may need to complete licensing or certification requirements before you can install solar power components. Contact your state professional licensing or regulatory board for your state to learn more about getting started in solar power.
Learn more about Alternative Energy Installation programs at Penn Foster and get ready to power up your career.