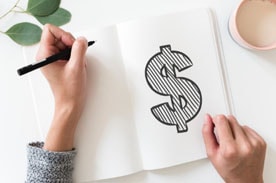 You get paid and your money seems to immediately disappear once you pay your bills, chip away at car and home loans, buy your groceries, and fill up your gas tank. How frustrating is that?! The idea of making, and actually sticking to a budget can be anxiety-inducing because money is a source of stress. You don't need us to tell you that doing a little financial planning can make a major impact on your life. If you're losing sleep over money, check out our top 10 budgeting hacks that will help you get your finances under control.
1. Buy Generic Brands of Food and Medications

Food and medications have government-regulated standards that must be met for the product to hit the shelves. The packaging might not look as nice on the generic brands, but the products often work the same! In pharmacies, generic products will have a clear label stating what name brand you can compare to.

2. Shop the Sale Rack at Your Favorite Stores

Being a baller on a budget doesn't mean you have to downgrade your style! Continue to shop at your favorite stores, but head directly to the sale section as soon as you walk in. If you absolutely must have the newest styles, wait for a site or store-wide sale, season change, or major holiday so you can at least get some discount. If you're willing to switch it up, look in second hand stores, Facebook Marketplace, or Ebay where you can find some high quality items at lower prices.

3. Buy Gifts in Advance

If you're invited to a bridal or baby shower, don't be the last one to get your gift! Making sure you have first pick will allow you to get the presents you want at the right price vs getting stuck with the leftover and expensive items that won't be as thoughtful. If you're thinking about the holidays, take full advantage of Black Friday deals! The retail industry has claws out competition on that day, so the sales are fierce.

4. Use Autopay to Avoid Late Fees

The last thing you want is to pay late fees on a bill that totally slipped your mind! Turn on auto-pay so you never forget to make a payment on time.

5. Never Miss Out on Cashback

Sites like Ebates should be your best friend! You can get cash back for the online purchases you would make no matter what. There are no fees and no catches! This one is an easy win.

6. Get Adventurous

Check out Groupon to explore deals in your area. If you're planning to go out to eat this week, see what deals are available at restaurants near you and choose one of those. They also have deals on travel, activities, trips, and products!

7. Pay What You Owe

How many times have you split the cost with someone and overpaid because you didn't have exact change in cash and didn't want to look cheap? Those few extra dollars add up! Use apps like Venmo and Facebook Messenger to send the exact amount you owe to your friends. These apps don't have any extra fees so there is no reason not to use them!

8. Do Your Research

Looking into buying new furniture or a major appliance, booking travel, or splurging on a new computer? Google the exact product you want before you buy it from the first retailer you see! The Shopping tab or Flights tab on Google, depending on what you are buying, will automatically help you compare prices from every site on the web that carries the item you want.

9. Meal Prep

Prepping your meals in advance will not only help you save at the grocery store by ensuring you don't buy anything other than what you need, it will also eliminate the temptation to order food out because you're too tired to pack a lunch in the morning.

10. When You Can, Pay in Full

It's not always possible, but when you can pay as much towards a major purchase as possible. At Penn Foster, you can save on tuition when you pay the full amount at the start. If you're thinking of buying a car, try to hold off until you can pay the majority of it at signing to minimize your loan interest. If you use a credit card, try to pay it off in full, or as much as you can each month, to avoid interest.
Getting your finances in order means you can spend more time and energy on the things that are important in life like your friends, family, job, and education. Take the time today to manage your finances and then figure out a way to give yourself a little more wiggle room so you can get back to enjoying your life. If you need help, you can always contact financial services at 1-800-275-4410. With the proper training from Penn Foster, you'll be on your way to higher earning potential.