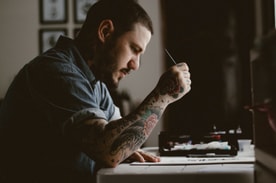 Do red marks on your writing assignments intimidate you? What you write can feel so personal that, when you get less than perfect grades on assignments, you can feel hurt and discouraged. Three-fourths of the nation's eighth and twelfth-grade students weren't confident in their writing and didn't meet school district standards in writing1. That's 75% of all students that didn't meet their grade-level standards on writing exams. So if you're struggling with writing, you're not alone! Composing a great paper is hard to do, but Penn Foster is here to help you feel more confident about your writing with our Writer's Block in the Digital Library and a series of no-cost, in depth webinars!
Don't miss this opportunity to improve your writing and crush your next composition assignment with our webinar series "Ouch, My Writing Assignments Have Red Marks Everywhere!"
August 28, 2018 | 1:00PM EDT
Part 1: Writing Quality Paragraphs
Well thought out paragraphs are the backbone of a great essay. Each paragraph is a single unit of thought, with one developed idea, that builds on your story or your theory. Well focused paragraphs are essential for getting your point across to the reader and making sure they can follow your thought processes. The first webinar in the series is dedicated to writing quality paragraphs and how to build those through outlines and pre-writing.
September 4, 2018 | 1:00PM EDT
Part 2: Writing Quality Essays
In the second webinar of the series, we'll be focusing on the construction of a quality essay, including how to decide what your thesis should be, writing the thesis statement, and tips for making sure your essay is focused on that thesis and the question you're attempting to address.
September 18, 2018 | 1:00PM EDT
Part 3: Writing Quality Summaries
Part of writing well is being able to summarize your paper or the work of others that you're citing in your document. This third and final webinar in the series will cover how to summarize and capture the main ideas of your essay.
Register and attend these helpful writing webinars and don't forget to use the Penn Foster Writer's Block to help you perfect your papers!
1 https://nces.ed.gov/nationsreportcard/