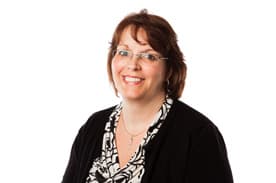 March is Women's History Month and we want to shine a light on some of the amazing Penn Foster women who inspire us daily! Today, meet Nancy Moretti! Though Nancy's background is helping children to prepare for their future through early childhood education, she has expanded her leadership by sharing all her knowledge and talents in ways that reach everyone in every field.
Nancy is the sole reason why Penn Foster offers the Student Success and Career Fair! Nancy is a trailblazer; creating an interactive, online career fair that's relevance to students, graduates, and the career-minded is unparalleled. For the past four years, Nancy has gathered talented speakers across Penn Foster's education and career teams as well as our corporate partners to provide essential student and career resources. By creating this week of educational career webinars to help empower others, she has lead the way for students, graduates, and all who join to enrich themselves and seek new heights.
Nancy Moretti, Penn Foster Associate Dean and Early Childhood Education Department Chair
Favorite Quote: It's not too late to... ask yourself if you really are the person you want to be, and if not, who you do want to be. — Morrie Schwartz
Q: Since we're celebrating Women's History Month, what powerful, strong women (historical, fictional, present-day) have inspired you?
A: In honor of Women's History Month, I reflect on Mrs. Kane, my sixth-grade teacher. Mrs. Kane was not only influential; she was dedicated to the success of her students. She made her students comfortable and thought outside of the box to meet the needs of her students.
When I was younger, I had selective mutism and was unable to speak in public settings. Before Mrs. Kane, my teachers would put me on the spot, call me out and visibly got upset when I did not answer them. Mrs. Kane was different; she understood that I couldn't speak, so she would skip over me and never call me out. It didn't take long before she empowered me to write my answers to questions - in fact, she asked the whole class to do it. Mrs. Kane would write questions on the chalkboard, and we took turns getting out of our seats to answer them.
Mrs. Kane did not pressure me; instead, she encouraged me to raise my hand when I wanted to answer questions and this I eventually did. I am not sure when it happened, but I became very comfortable in Mrs. Kane presence and her class, and before long, I was talking at school and other social settings.
Q: What accomplishment makes you most proud? It could be anything that has inspired you to make change happen!
A: As I reflect once again, I am proud of the work that I have done in the early childhood arena. During my 28 years as an early childhood professional, I worked with thousands of children and their families. I am most proud when I see or read about the accomplishments that these children (many whom are now adults) have achieved.
Q: Why is encouraging other women important to you?
A: It is the knowledge, passion, and desire to lead that make a person a leader. I would encourage anyone to follow their heart and to reach for the stars.
Q: How did you become the leader that you are today? Or what lead you to where you are today?
A: I became a leader because 27 years ago, the owner of the child care center approached me and asked if I would be willing to serve as the director of the center. I truly would have never thought to apply for the position. Through this position, the owner mentored me. As a savvy businessman he taught me to think outside of the box. He encouraged me to do more and to be more. When I was the leader that he envisioned for his child care center, he stepped back and watched me grow.
Nancy has learned the importance of sharing knowledge. By learning business principles on top of her Early Childhood Education background, doors opened for her to take control of her future. Now, she shares what she's learned through her experience to boost opportunity for others. No matter your background of your experience, take it from Nancy: Go out and learn all you can and then share it far and wide. You'll lead the way just by sharing what you know with others!