Location & Directions

Penn Foster graduation ceremonies have included alumni from across the globe. Whether you're traveling from New York or New Zealand, we have the details for you to find the 2023 Commencement Ceremony.
Ceremony Location & Directions
LOCATION: The Mohegan Sun Arena is located at 255 Highland Park Blvd., Wilkes-Barre Township, PA 18702.
PARKING: Parking for the event at Mohegan Sun Arena is free. The Mohegan Sun Arena parking lot is located adjacent to the venue and is accessible via Highland Park Blvd. or Mundy St.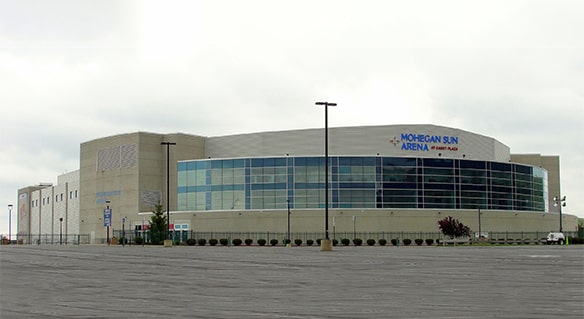 How to get to Wilkes-Barre:
By Car: Wilkes-Barre is located in northeast Pennsylvania and is accessible via the PA Turnpike and Interstate 81.
I-84 west from New England.
I-80 east to I-380 north from New York City; west from Erie, State College, and Pittsburgh.
I-476 (PA Turnpike Northeast Extension) north from Allentown and

Philadelphia.
I-81 south from Ontario/Quebec and Syracuse; north from Washington DC and Georgia via Harrisburg.
By Bus: Martz and Greyhound provide transportation to and from PA, NJ, & NY to the Wilkes-Barre bus station and Wyoming Valley Mall.
By Flight: The Wilkes-Barre/Scranton Airport is within 15 minutes of downtown Scranton and Wilkes-Barre. It offers flights from most major domestic airlines.
FAQ
Does Penn Foster cover the costs of transportation to the ceremony?
No, getting to the commencement ceremony is the responsibility of the student and is not paid for by Penn Foster.
IMPORTANT INFORMATION: To attend the 2023 ceremony all graduates must be 100% academically complete, paid in full and registered by 6:00 p.m. EST June 30, 2023. Eligible graduates received an email with a personalized link to register on May 15th. If you did not receive the email or completed the academic or financial obligations after that date, please contact Graduation Services at 1.800.232.1243 and they can assist you with registering and purchasing guest tickets.