High School with Early College Credits
If you know you want to attend a college or university after graduating, our online high school with early college credits can help you prepare for more academically challenging college courses and meet enrollment requirements for many universities. You'll complete your core high school courses like English, science, and math, then choose five college prep electives. Your early college electives will help you earn college credits in high school.
Certain early college elective courses
are ACE evaluated and recommended and provide foundational knowledge to help you get ready for college. Additionally, your electives may transfer into a Penn Foster associate or bachelor's degree program. Over 2,000 schools consider ACE credit recommendations for transfer to their degree programs. For more information, visit the
ACE CREDIT
website.
cost of program
$949
$1,399 Save $450
or
$55/month, Start for as low as $1
1-888-427-6200 (9AM - 9PM EST)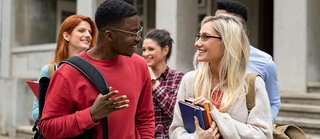 Early College Pathways Courses
General High School Courses
Health & Physical Education
Electives: Academic/College Preparation
Technology Requirements - As you know this is an online academic program. This means you will need access to high-speed internet to begin your program. In addition, you will need access to a Microsoft® Windows® based computer running Windows 10® or later or an Apple® Mac® computer running macOS® Sierra Version 11.2 or later, access to a word processing program to complete written assignments, and an email account to complete this program with Penn Foster.

Microsoft and Windows are trademarks of Microsoft Corporation registered in the United States of America and/or other jurisdictions.

Apple, Mac, and macOS are trademarks of Apple, Inc. registered in the United States of America and/or other jurisdictions.
State Licensing
Many colleges use ACE recommendations to determine credit transfer values. Credits earned in Penn Foster programs may transfer to some, but not all, learning institutions. Students who plan to continue their education with another school should check with that school regarding credit transfer policies.

Homeschooling Requirements: Penn Foster High School students who are of compulsory age must also comply with home school requirements dictated by their school district, or those students will be considered truant. You need to check the requirements of your district to ensure the Penn Foster High School Program meets the district's home school requirements.
FAQs
Can you take college classes in high school?
Yes! There are many programs that allow high school students who qualify to earn early college credits while they're finishing their diploma. With Penn Foster's college prep high school program, you'll complete a traditional curriculum online then prepare for college-level classes with more academically challenging courses like economics and psychology.
What is early college high school?
An early college high school program like Penn Foster's is geared toward helping students prepare for college-level coursework after graduation. Many colleges and universities look for more academically challenging classes on a potential student's transcripts, so taking more rigorous courses like English composition can help you prepare to meet those prerequisites. Additionally, it can help you to adapt to the more demanding coursework you'll be expected to complete in college so you can confidently start your degree.
Is it good to take college classes in high school?
Taking college-level classes in high school isn't for everyone. Students who want to join the workforce or train for a career at a vocational school don't necessarily need to take college classes in high school. If you know you'd like to attend college after graduating high school, it's helpful to take college prep classes to help you prepare. Through five academically challenging electives you'll build the skills and study strategies that can help you succeed in higher education while earning early college credits.
Will my early college credits transfer when I do finally enroll in college?
Our courses are accredited and ACE approved, so they may transfer to some community colleges and universities. Before enrolling in the Early College Pathway Program, it's best to check with a school you're interested in attending after graduation to ensure that your elective classes will be transferrable. Additionally, if you decide to enroll in a Penn Foster degree program, your electives may transfer to some general education courses in our associate and bachelor's degrees.