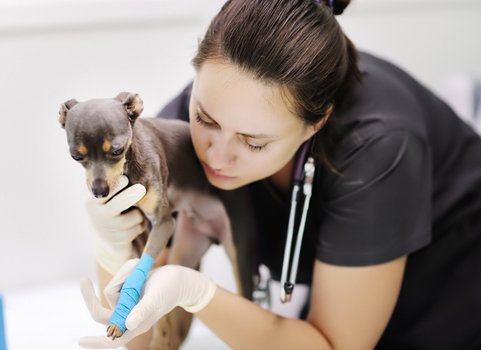 Veterinary
Job Guides
What Does a Veterinary Technician Do?
If you have a passion for helping animals and want a career that makes a difference, becoming a veterinary technician could be the perfect fit for you! Here, we'll cover the ins and outs of the profession, how to get started as a vet tech, and even the differences between the distinct veterinary roles – as well as sharing some advice and wisdom from veterinary technician students, alumni, and instructors.
If you have a passion for helping animals and want a career that makes a difference, becoming a veterinary technician could be the perfect fit for you! Before completely switching careers, though, it's important to know what you're getting into. Here, we'll cover the ins and outs of the profession, how to get started as a vet tech, and even the differences between the distinct veterinary roles – as well as sharing some advice and wisdom from Penn Foster veterinary technician students, alumni, and staff. Click below to jump ahead to learn more about becoming a vet tech or read the full article to find out everything you need to know.
What is a veterinary technician?
A veterinary technician is someone who works under the supervision of a veterinarian to help animals. A more clinical role than a veterinary assistant, vet techs will assist the veterinarian during exams, complete laboratory tests like blood draws, and help during surgery. Because skilled vet techs play a large role in the clinical aspects of a vet office, they often need to be credentialed – meaning, they need to be certified, registered, or licensed to practice – and have extensive medical knowledge and skills.
Where do vet techs work?
Veterinary technicians don't just work in small animal clinics; they also work in
What does a vet tech do?
On a daily basis, vet techs assist the veterinarians in their practice with seeing patients for routine and emergency exams, assisting during surgeries, and helping with conducting laboratory tests such as x-rays and blood draws.
Vet tech duties and responsibilities
The main vet tech duties and responsibilities include
Examining patients, usually under the supervision of a licensed veterinarian
Educating pet parents on proper health and nutrition for their animals
Taking and recording patient vital signs
Recording and updating patient medical records
Performing diagnostic imaging, such as x-rays
Taking specimens for laboratory tests, such as drawing blood
Preparing patients for surgery
Preparing equipment for surgery
Administering and monitoring anesthesia
Administering vaccinations or medications prescribed by the veterinarian
In some cases, handling telehealth appointments
Administrative tasks
Depending on where you work and whether you're a credentialed vet tech, you may be asked to do other tasks to help out in the practice, including scheduling appointments and following up with patients.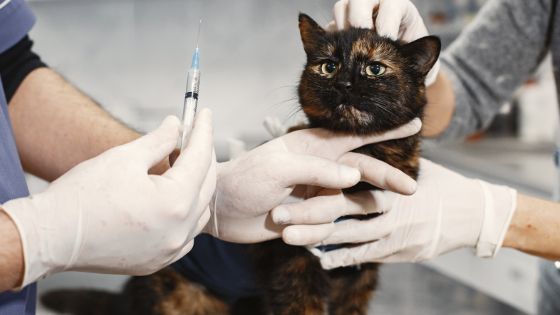 What can't a veterinary technician do?
While trained vet techs have a wealth of knowledge and skills, there are some tasks that they can't do, with or without supervision from the veterinarian. These include
Prescribing medication
Performing surgery
Diagnosing a patient
Read more: 5 Ways to Earn More Money as a Vet Tech
Do vet techs put animals to sleep?
Euthanizing animals is one of the harder tasks a vet tech may help with on the job. It can be emotionally draining and upsetting, and many people may not want to be involved in doing it. However, it's a real part of the day-to-day work you may do as a trained vet tech. Euthanizing a pet is a hard decision for pet parents and veterinarians and is done for a variety of reasons, from quality-of-life issues to untreatable medical problems. In order to be a successful vet tech, you'll need to be prepared to assist your veterinarian in putting animals to sleep.
According to Megan Chadwick, Director of Penn Foster's Veterinary Academy, it's a job that takes a lot of love and dedication.
"It's a challenging program and profession," she says. "You're often in high-pressure, fast-paced environments where it can be physically and emotionally exhausting. If you want to be a vet tech because you enjoy only the pleasantries of the profession, [such as] seeing puppies and kittens but cannot deal with the harder parts, then the profession may not be for you."
What animals do vet techs work with?
Vet techs work with all sorts of animals, from small pets to exotic pets. You may also work with large animals, such as horses or cows if you work in a rural veterinary office. The common animals that most vet techs will see from day-to-day include
Cats
Dogs
Domestic birds
Rabbits
While more exotic pets can include
Snakes, lizards, and other reptiles
Hedgehogs
Primates
Marsupials such as opossum
Domesticated skunks and raccoons
Exotic birds
Tarantulas
Gerbils
Ferrets
Rats
While those who work in veterinary offices that service local farms may see animals such as
Goats
Cows
Sheep
Horses
Llamas and alpacas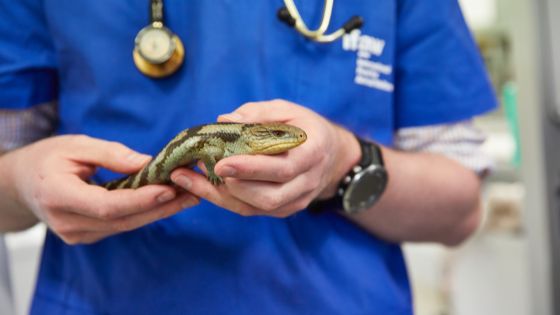 How to specialize as a vet tech
Just like in the human medical field, those working with animals have the opportunity to specialize in particular areas of care. Veterinary technicians who want to advance their careers and specialize in a skill will often need to further their education in the field in order to qualify. There are several different specialties that vet techs can pursue, and each may require a different level of training and education. Veterinary technicians can specialize as a
Veterinary technologist. A veterinary technologist may perform many of the same tasks as a vet tech does, but they will often have a deeper knowledge of veterinary medicine and must complete a bachelor's degree in the field. Veterinary technologists can earn a higher salary than a traditional veterinary technician and will have more responsibilities at work, including the opportunity to take on a leadership role within the vet practice.
Veterinary lab technician. Veterinary lab techs will not typically work in a vet practice setting, but rather in a lab or research setting. Day to day, lab techs will collect and analyze specimens, conduct research, and record results. This specialty may require a bachelor's degree to qualify for the role.
Veterinary surgical technician. Veterinary surgical technicians focus their work on surgery. They'll assist the veterinarian before, during, and after surgery. They'll maintain the surgical area, prepare and sterilize medical equipment, and perform post-surgical care for patients. This specialty may require further education, extensive work experience as a vet tech, and certification in order to qualify for the job.
Veterinary emergency and critical care specialist. Veterinary technicians who work in emergency and critical care will most often work in an animal hospital or urgent care setting handling emergency patients. They'll work with patients with life-threatening or critical wounds and illnesses, administer wound care, participate in surgery, and monitor animals' post-surgery care. To work in this specialty, you'll need to be a credentialed vet tech and meet licensing requirements. Many employers will also require a bachelor's degree in veterinary technology.
Read more: Earning Your Vet Tech Degree Online vs On Campus
Vet vs vet tech
Veterinarians are doctors while veterinary technicians provide essential assistance to vets in a practice or emergency care setting. Because they're considered doctors, veterinarians require extensive education. Veterinarians must earn a bachelor's degree and then a Doctor of Veterinary Medicine (DVM) degree. DVMs must then become licensed and, in many states, perform a residency or year-long externship in order to practice as a veterinarian. The entire process can take as many as 8-10 years to complete.
On the other hand, a veterinary technician needs much less education in order to work in the field and, depending on the state they're working in, may not need to pursue a degree or licensing to work. Additionally, vet techs must work under the supervision of a licensed veterinarian, while veterinarians do not need supervision to complete clinical work.
Read more: The Difference Between a Veterinary Technician & a Veterinary Technologist :
Vet tech vs vet assistant
If you're considering working in animal care, you may be wondering what the difference between a veterinary technician versus a vet assistant is. Which role is the right one for you?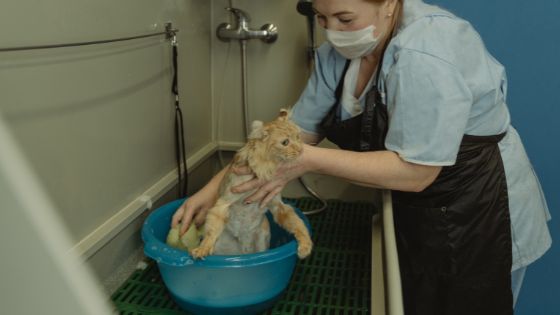 Vet techs and vet assistants both play an important role on a successful veterinary healthcare team, working with each other, the practice manager, and veterinarians to provide quality care to patients. However, there are a few key differences between the jobs.
While vet techs can do clinical work, assist in exams and surgery, and complete laboratory work, veterinary assistants focus more on the administrative tasks of the office. They'll also feed, bathe, and take care of animals that may be staying in the office post-surgery or for observation.
Read more: Vet Assistant to Vet Tech (Student Story)
Vet technologist vs technician
The biggest difference between becoming a veterinary technologist versus a veterinary technician is the level of education and experience required to do the job.
Vet technologists and vet techs perform many of the same tasks, including examining patients, working with the veterinarian to administer vaccinations and medications, and assisting in surgery. However, because technologists are required to have a bachelor's degree in the field, they may have more in-depth knowledge that can allow them to specialize in particular areas of veterinary medicine, including oncology and emergency care.
Is becoming a vet tech worth it?
Becoming a vet tech is absolutely worth it for those who are truly passionate about working with and helping animals. It's also currently an in-demand job, with vet practices needing to hire more staff to handle the high number of appointments for new and current patients. In fact, the Bureau of Labor Statistics predicts that there will be over 10,000 new job openings in the field per year for the next decade, meaning there are plenty of opportunities to start a career you love.
However, it's also a very challenging job, physically and emotionally. Many veterinary technicians work long hours, are constantly on their feet, and handle the difficult job of working directly with clients and their pets.
But, if you know helping animals is what you're meant to do, it's possible to make it through the struggle and build a rewarding career that offers opportunities to advance your veterinary medicine education.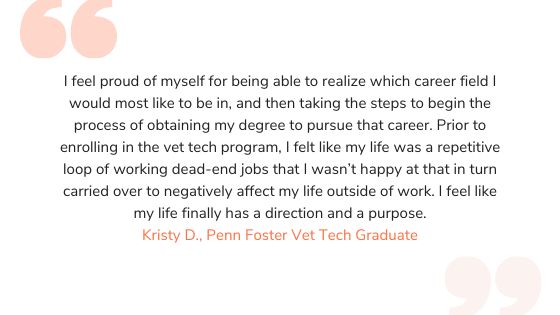 While studying to become a vet tech, there are steps you can take to prepare for the challenges you may face on the job. According to the Director of Penn Foster's Veterinary Academy, Megan Chadwick, vet tech students can take steps to prepare themselves for compassion fatigue and burnout early on.
"There is a lot of great continuing education out there to help [you] learn how to deal with these issues. And [students] can start good habits now like mindfulness, meditation, etc. and continue these practices when they become vet techs."
By preparing for the challenges you'll face on the job while you're still in school, you can also build habits and coping mechanisms that can help you stay motivated when you're working on your degree and preparing to sit for the Veterinary Technician National Exam (VTNE).
Read more: Advice From Vet Tech Grad Nicole Gonzalez
What are the cons of being a vet tech?
Even if it's an in-demand career, becoming a veterinary technician can come with some negatives. These include
Compassion fatigue
Stress
Long work hours
Despite the cons, it is a job that offers the opportunity to make a difference in the lives of animals! It also allows you to keep learning and growing in the field, and even requires continuing education which can help you advance your career and knowledge.
Vet tech requirements (how to be a vet tech)
If you want to become a vet tech in any state, the first step is to find out what you need to do to qualify for the job. Here's everything you need to know about the requirements to work as a veterinary technician.
Education. Most often, veterinary technicians need an American Veterinary Medical Association (AVMA) approved Veterinary Technician Associate Degree to work in the field. While not every state requires vet techs to have a degree to work in the field, most do or will in the future.
Externship (hands-on experience). Students in a vet tech degree program are required to complete externship hours to get hands-on experience in the field. The externship portion will cover the skills needed to be successful on the job and should include both large and small animal medicine.
Certification. Veterinary technicians need to sit and pass the VTNE to become a credentialed vet tech in many states, though some states may not require certification to work in the field. The VTNE is a national exam that measures your knowledge and is required to apply to your State Board of Veterinary Medicine to become licensed or registered as a vet tech.
Continuing education. To stay up to date on new technology and medicine, continuing your education is a must as a vet tech. It's also a requirement to maintain your credentials or license. Most states require recertification about every two years.
Besides meeting the requirements to be a vet tech in your state, it's also important to be open to learning as much as possible throughout school and your externship.
"Try to gain as much exposure in the field as possible," Megan says. "Take advantage of every opportunity, whether it be shadowing at a clinic, volunteering at a shelter, or networking through social media with veterinary professionals."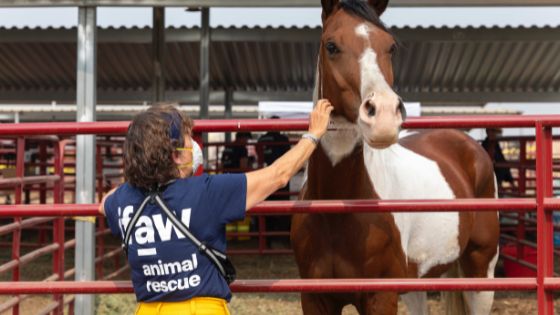 How long is veterinary technician school?
Vet techs usually pursue an associate degree in order to work in the veterinary field. Generally, it takes about two years to complete the degree, though some students may take longer depending on the school they go to, their current jobs, and any other commitments that need to be taken into consideration.
How to decide which vet tech school is right for you
When you know you want to become a veterinary technician, it's important that you choose the right school to help you reach your goals. "You should research the different roles that exist on a veterinary team and the job responsibilities for each role," Megan says. You also want to make sure your school is AVMA approved so you can be confident that you're learning what you need to be successful on the job.
Can you be a vet tech without a degree?
For the most part, you need a degree to be a vet tech. While there are many skills that can be learned on the job, you need knowledge in animal anatomy and physiology, biology, medical nursing, pharmacology, medical math, and more that you may not be able to learn on your own.
Additionally, many states require vet techs be licensed or registered in order to work. Part of that licensing includes relevant, recognized education. The only states that don't require vet techs to be licensed, registered, or certified are Massachusetts, Colorado, Connecticut, Florida, Minnesota, New Hampshire, New Jersey, Rhode Island, Vermont, and Wyoming. However, professionals in the industry are pushing for licensing to be required in states that currently don't limit who can work as a vet tech, so in the next few years, even these states could have specific requirements in place.
Note: Don't have a high school diploma? High school grads earn more money on average than people who don't have their diplomas*. Learn more about earning your diploma online, at your own pace.
How to get an RVT, CVT, or LVT designation
While most states require credentials to become a vet tech, they may use different titles or designations. These include
Registered veterinary technician (RVT)
Certified veterinary technician (CVT)
Licensed veterinary technician (LVT)
While they may have different names, the requirements are pretty similar. Generally, you need to complete a degree at an AVMA-accredited school, take and pass the VTNE, and apply to your State Board of Veterinary Medicine to become an RVT, LVT, or CVT.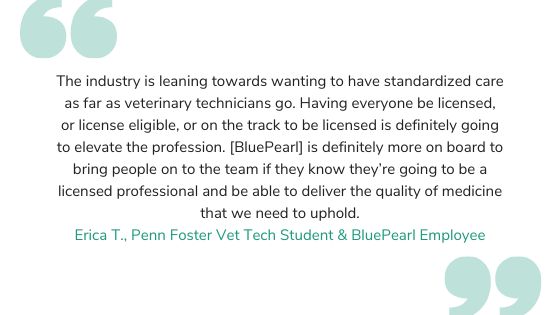 Veterinary technician salary: how much does a vet tech make
The average salary for a veterinary technician was $38,819 per year as of June 2022. Salary can vary based on where you work, your experience, and whether you're licensed or credentialed.
Vet Tech Salary by State
| State | Annual Mean Wage | Annual Hourly Wage |
| --- | --- | --- |
| Alaska | $43,510 | $20.92 |
| Alabama | $30,780 | $14.80 |
| Arkansas | $29,850 | $14.35 |
| Arizona | $36,190 | $17.40 |
| California | $45,140 | $21.70 |
| Colorado | $39,980 | $19.22 |
| Connecticut | $44,380 | $21.34 |
| District of Columbia | $68,110 | $32.75 |
| Delaware | $37,000 | $17.79 |
| Florida | $35,840 | $17.23 |
| Georgia | $37,560 | $18.06 |
| Hawaii | $43,420 | $20.87 |
| Iowa | $35,630 | $17.13 |
| Idaho | $34,660 | $16.66 |
| Illinois | $43,310 | $20.82 |
| Indiana | $35,230 | $16.94 |
| Kansas | $36,310 | $17.46 |
| Kentucky | $31,520 | $15.15 |
| Louisiana | $28,380 | $13.64 |
| Massachusetts | $43,290 | $20.81 |
| Maryland | $40,250 | $19.35 |
| Maine | $38,990 | $18.74 |
| Michigan | $38,540 | $18.53 |
| Minnesota | $39,740 | $19.11 |
| Missouri | $33,240 | $15.98 |
| Mississippi | $28,300 | $13.61 |
| Montana | $32,980 | $15.86 |
| North Carolina | $36,300 | $17.45 |
| North Dakota | $37,170 | $17.87 |
| Nebraska | $36,930 | $17.76 |
| New Hampshire | $41,390 | $19.90 |
| New Jersey | $42,020 | $20.20 |
| New Mexico | $33,290 | $16.00 |
| Nevada | $44,180 | $21.24 |
| New York | $45,560 | $21.90 |
| Ohio | $36,510 | $17.55 |
| Oklahoma | $33,200 | $15.96 |
| Oregon | $40,960 | $19.69 |
| Pennsylvania | $37,670 | $18.11 |
| Rhode Island | $38,050 | $18.29 |
| South Carolina | $38,230 | $18.38 |
| South Dakota | $34,440 | $16.56 |
| Tennessee | $33,700 | $16.20 |
| Texas | $33,040 | $15.88 |
| Utah | $32,310 | $15.54 |
| Virginia | $41,840 | $20.12 |
| Vermont | $35,140 | $16.89 |
| Washington | $47,550 | $22.86 |
| Wisconsin | $37,510 | $18.03 |
| West Virginia | $32,480 | $15.62 |
| Wyoming | $33,280 | $16.00 |
Highest paying states for vet techs
| State | Annual Mean Wage | Annual Hourly Wage |
| --- | --- | --- |
| Alaska | $43,510 | $20.92 |
| District of Columbia | $68,110 | $32.75 |
| Washington | $47,550 | $22.86 |
| Nevada | $44,180 | $21.24 |
| Connecticut | $44,380 | $21.34 |
What comes after a vet tech?
After becoming a veterinary technician and working in the field, you may want to advance your career. The next steps for vet techs can include becoming veterinary technologists, pursuing a veterinary technician specialty, becoming a veterinary practice manager, or even pursuing vet tech teaching opportunities.
Besides work experience, you may need to pursue further education to qualify for higher-level roles in the veterinary field, such as a Veterinary Technology Bachelor's Degree.
Become a vet tech online
If you know you want to start a career as a vet tech, but aren't sure you have the time to attend a traditional college, earning your vet tech education online could be the best fit to help you reach your goals. Penn Foster's AVMA-CVTEA accredited online Veterinary Technician Associate Degree is a self-paced, in-depth program that covers the essential knowledge that can help you prepare to become a vet tech and sit for the VTNE. To learn more about our program, how a vet tech externship works in online school, and what you need to do to get started, call our expert Admissions Specialists today at 1-888-427-6500!
*Source: U.S. Bureau of Labor Statistics