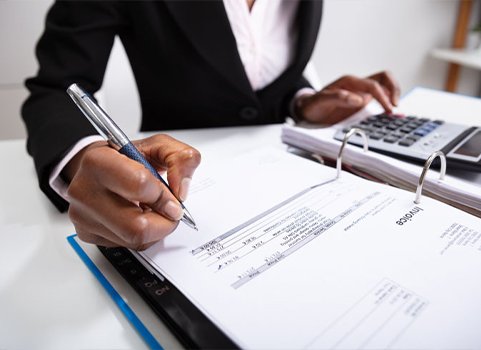 Business
What's the Difference Between Bookkeeping & Accounting
You are a master at working with numbers and love the ups and downs of the financial world. You know you want to do something in that field, but need to figure out exactly what that is. Accountant and bookkeeper both seem doable, but they also sound like they're different titles for the same job. Here's what you need to know about their unique functions for a thriving business.
Do accountants and bookkeepers do the same job?
You're fascinated by numbers and are detail-oriented, so you've thought about starting a career that focuses on math. Accounting and bookkeeping are both jobs that you've been considering, but you're not sure which path is the best fit for you. After all, aren't these roles basically the same job with a different title? Not so much! There are a few key differences. Here's what you need to know.
What does a bookkeeper do?
Bookkeeping involves recording financial transactions for a company or small business. In the past, before computers and software were widely used, bookkeepers would use ledgers or documents that were specifically for writing down every transaction in chronological order. Now, having technological confidence, understanding how to use different spreadsheets, and being familiar with financial software is important to finding success in your role.
Bookkeepers are vital to a thriving business because they're responsible for keeping track of important, sensitive financial information. Without a trained and knowledgeable bookkeeper on board, planning future investments and purchases can be frustrating and confusing.
Learn more about the types of courses you'll take to prepare for a career as a bookkeeper: online program details
What does an accountant do?
Accountants are often responsible for not just keeping financial records in order, but for also interpreting financial documents, analyzing trends in spending and profit, and more. While it may seem very similar to bookkeeping, accountants will also report on projected trends or things they think will happen financially based on historical company data.
A skilled accountant can not only report on the financial well-being of a business, they can help their employer branch out into other businesses, decide on whether or not they should make a large company purchase, and calculate the return on investment for different company initiatives.
The big difference?
Working with financial records requires both accountants and bookkeepers to be organized, detail-oriented, honest, and have strong math skills, but from there, the roles differ depending on the company you work for. For the most part, it's simpler to think of the work at its most basic. Bookkeepers record information and accountants translate it. While more goes into the day-to-day work, you'll find these roles working together more often than not.
How to decide which career path is right for you.
Both accountants and bookkeepers work closely with numbers and financial issues, so how do you decide which career is really the one for you? Besides reading up on the responsibilities that come with each role, take some time to ask yourself a few questions such as:
What kind of training does the role require?
How much time do I want to dedicate to learning and training for my new career?
Some tasks or opportunities for bookkeepers and accountants can overlap, but answering these questions for yourself can help you narrow down your interest and more decisively choose your path. Bookkeepers, for example, aren't necessarily required to hold a two or four-year degree to get a position in the field. Training is a must, but a career diploma like Penn Foster's online bookkeeper course can help you take the next step to build a career in the field in as little as five months.
Accountants are generally required to hold a two or four-year degree, which means a couple of years of study at least. While learning more in-depth information, those in an accounting degree program will also cover general education requirements, business classes, and more.
Find your financial career path with Penn Foster.
Whether you are interested in starting an entry-level career as an accountant, or you're starting your own business and want to make sure you have a solid understanding of keeping financial records, online courses from Penn Foster can help you prepare for the career path you're interested. Reach out to our Admissions Team today at 1-888-427-6500 to get started.