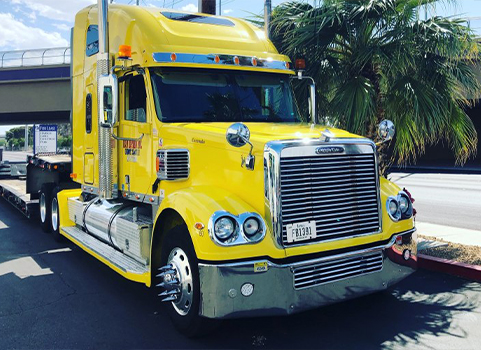 Automotive and Engine Repair
Is Becoming a Diesel Mechanic a Good Career?
Lean how online diesel mechanic training works, what the job involves, and how to become a diesel mechanic.
Is becoming a diesel mechanic a good idea?
You've been searching for a career you can get excited about and you know you enjoy working with your hands, building and taking apart mechanical things, and understanding how motor vehicles work. You're also detail-oriented, with troubleshooting skills and people skills. But you're not sure what job you can find that allows you to combine your skills and interests. One career path that could be the perfect fit for you? Becoming a diesel mechanic. Here's what you should know about the job, the required training, and more.
What is a diesel mechanic?
Diesel mechanics, also referred to as diesel technicians, inspect, repair, maintain, and overhaul buses and trucks, as well as any type of diesel engine. Similar to auto repair technicians, diesel mechanics consult with customers, read work orders, interpret diagnostic tests, and repair malfunctioning parts in motor vehicles. The biggest difference is the size of the vehicle being worked on and the differences in a diesel engine versus one that uses gasoline.
How long do you have to go to school to be a diesel mechanic?
Diesel mechanic training combines academic learning and on-the-job instruction. For those who take online diesel mechanic courses like our self-paced Diesel Mechanic/Heavy Truck Maintenance Career Diploma, training can be completed around your schedule in as little as 7 months.
Though certification isn't a requirement to work as a diesel technician, earning your Automotive Service Excellence (ASE) Medium-Heavy Truck Certification can strengthen your resume and could increase your earning potential in the field. Penn Foster Career School's online classes can help you prepare to sit for the exam and take the next steps toward a career you enjoy, on your schedule.
How much does a diesel mechanic make?
Trained diesel mechanics can earn, on average, a salary of $50,200 per year. That breaks down to roughly $24.13 per hour. Pay can vary based on experience, where you work, and the state you live in. Those diesel techs who work in local government facilities tend to make more, followed by those in wholesale trade, automotive repair shops, and truck transportation.
Diesel mechanics employed by truck fleet dealers and repair shops may even receive a commission in addition to their regular salary. While earning certification can help you strengthen your resume, it could also potentially make you eligible for higher pay, depending on your company and performance.
Read more: 10 Skilled Trades Jobs In Demand Right Now
Is diesel mechanic the career for you?
Becoming a diesel mechanic is a good career move for those who are interested in mechanics and want to start a job that offers the opportunity for satisfying work, as well as a solid entry-level paycheck. If you want to work with your hands, have the satisfaction of seeing the results of your work, and working in a field that offers new tasks every workday, diesel mechanics might be the dream job you've been waiting for. If you're not sure how to get started with your training or have questions about how online diesel mechanic classes work, reach out to one of our dedicated Penn Foster Admission Specialists today at 1-888-427-6500!