Construction Trades
In Demand
Construction School Online
If you're interested in a job that allows you to combine creativity with your attention to detail, our online Construction Trades Program could be the perfect fit for you. With flexible online courses, you can prepare to build the knowledge and skills needed to take the first steps toward a career as a carpenter, floor installer, or woodworker.
Learn essential skills like design techniques, understanding building codes, and more.
Interactive lessons and simulations help you practice hands-on skills online.
Cost of Program
$799
$964 Save $165
or
$59/month, Start for as low as $1
800-275-4410 (9AM - 9PM EST)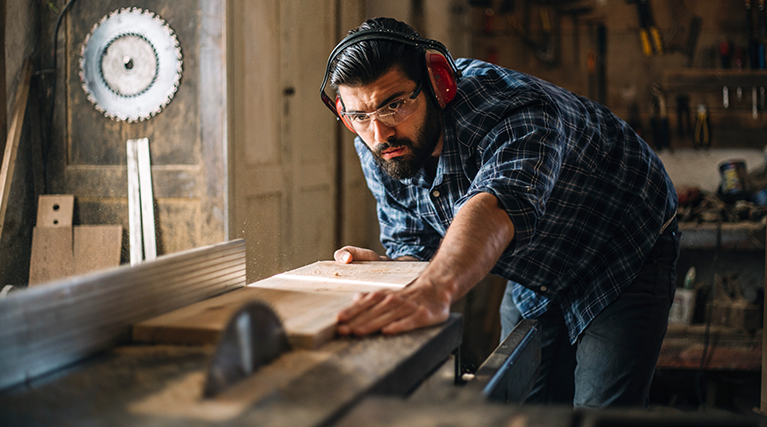 What You Will Learn
How to explain the elements used in construction drawings relating to the shape, style, and design of a building.
How to explain the methods and building and zoning codes used to construct foundations.
How to install drywall, frame flooring and stairs, and install insulation.
How to determine the correct materials and tools needed to complete a project.
Full Program Goal & Outcomes
Construction Trades Career Outcomes
Carpenter
NUMBER OF JOBS*
1,024,100

Our online Construction Trades Career Diploma is designed with job-readiness in mind. Construction and carpentry jobs remain steady over the next ten years, according to the Bureau of Labor Statistics.
State Licensing Requirements
Licensing and/or certification requirements for jobs in this field are not the same in every state and may include educational, testing, and/or experiential requirements beyond those offered in the Penn Foster Program. Prospective students should contact the state professional licensing board or similar regulatory body in the state(s) where they plan to work to determine their requirements before enrolling in this program. See the State Licensing page for contact information for state licensing/regulatory boards and certain industry licensing information. This is particularly important for residents of California and Florida.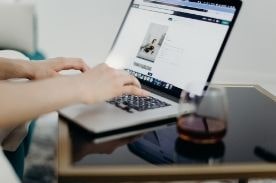 Are Online Courses A Good Investment?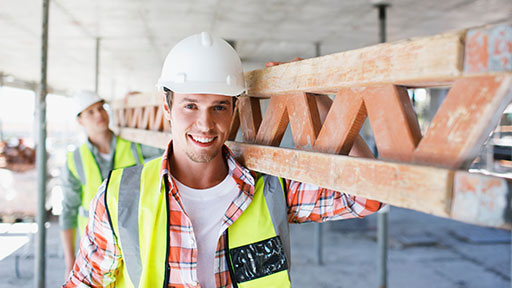 Optional Construction Work Experience
Should you choose, you'll have an opportunity to gain hands-on experience after completing your online coursework. Since the work experience is optional and not required for graduation, students who wish to participate are required to find a site to complete the work on their own.
Construction Trades Student Stories
Penn Foster's Construction Trades Career Diploma courses can help prepare you for the first step in your carpentry and construction career. This program has helped recent graduates learn at their own pace, find new jobs, and advance in their current roles. Learn more about Penn Foster graduates' experiences and how Penn Foster worked for them.
View Student Success Stories
Jermaine H.
Penn Foster Graduate, 2021
"I needed Penn Foster to get my feet in the door of a career of my choice. Penn Foster helped with that in a tremendous way..."
Online Construction Course Curriculum
8 courses
25.0 Continuing Education Units (CEUs)
16 exams
In our online Construction Trades Career Diploma, you'll learn the skills and build the foundational knowledge to work as a carpenter or in another construction role. Your online construction courses include:
Construction Drawings and Building Materials
Tools, Foundations, and Concrete Work
Framing
Insulation and Exterior Finishes

Show Full Curriculum
Looking for skilled trades training for your workers?
Penn Foster currently works with hundreds of leading employers to meet their unique organizational needs.

Learn More
Online Construction Program Tuition
Take the first steps toward a new career with our online Construction Trades Career Diploma Program. Simply choose from one of our low-cost customized payment plans below and get started today!
Cost of Program
Best price. Best value.
Pay the full cost today
No monthly payments
Enroll Now
Cost of Program
Pay $59 per month
Start for $1 down
Credit card, PayPal, or ACH from bank account
Enroll Now
cost of program
Pay $59 per month
Start for $39 down
Mail your payment using coupon book
Enroll Now
Need more info or ready to enroll?
Looking for more information on transfer credits, military benefits, or our refund policy? Find this information and more about tuition and enrollment here.
Tuition & Payment Options
Our Proven Construction Trades Learning Model
Empowering students to reach their professional goals
Flexible
Start anytime
No exam due dates
Self-paced
Interactive
Digital study guides
Presentations and animations
Simulations and videos
Connected
24/7 access to online resources
Online student community
Student Portal Help Center
Supportive
Expert faculty
Dedicated student services
Robust learning resources
Online Construction Courses FAQs
What are some jobs you can do with construction trades?
With a background in construction trades, you can prepare to work as a carpenter, including roles in residential and non-residential building construction, or as a finishing contractor.
What does a carpenter do?
Carpenters construct, repair, and install building frameworks and structures made from wood and other materials. Working with a construction, you'll be a vital part of building new structures for residential and commercial use. Most carpenters work full-time for a business or as a contractor and they often work on one large-scale project at a time.
What skills do you need to become a carpenter?
Becoming a carpenter requires skills in math, problem-solving skills, and qualities like dexterity, physical strength, and being a detail-oriented person.
What is the average salary of a carpenter?
The average salary for an entry-level carpenter was $48,330 in 2019, though pay can vary based on your location, the industry you work in, and your experience.*
What industries can I work in as a carpenter?
Carpenters can work in a variety of settings within the construction industry including residential construction, non-residential construction, for contractor companies, or as a contractor themselves.
What types of work can I do as a carpenter?
Most carpenters work indoors and outdoors and can expect to be involved in construction projects from building highways to installing kitchen cabinets.
Disclaimers:
The completion of a certificate-level program does not typically qualify a student for employment. Completion of this program may assist students who have previous academic or work-related experience improve their chances for promotion or entry-level employment.
Sources:
*Bureau of Labor Statistics, U.S. Department of Labor. "Carpenters." Occupational Outlook Handbook. Accessed March 31, 2021.
Statements found in the United States Department of Labor Occupational Outlook Handbook are not a guarantee of any post-graduation salary, in part because the data used to create the Occupational Outlook Handbook includes workers from differing educational backgrounds, levels of experience, and geographic areas of the country.