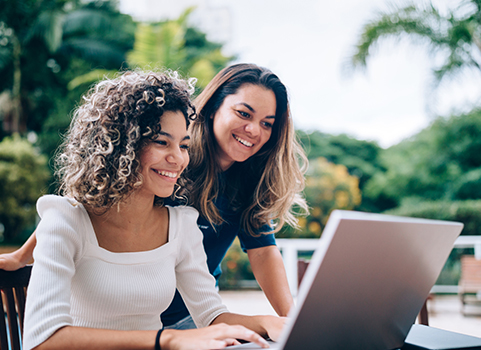 High School
Parents of High School Students
Student Stories
Q&A With a Penn Foster High School Parent
A traditional learning environment isn't for everyone. Patricia Carey knew her high school-aged students needed a flexible education option. With her students, she made the decision to enroll them in Penn Foster's online High School Diploma program. Here's how Penn Foster helped them.
Patricia Carey enrolled her son, Joseph, and daughter, Laura, in Penn Foster's online High School Diploma program and never looked back. While their situation is a unique one, she believes the decision to enroll her children in our self-paced learning model was the right choice. Now, Joseph is attending college, having graduated six months early, and Laura continues to work through our program. Here's what Patricia had to say about their decision.
Why did you choose Penn Foster?
Patricia: We were constantly moving. For middle school that was okay, the teachers were willing to work with the students. But once Joseph entered high school, they offered us no support. We realized we had to find an alternative. We found Penn Foster as an online option that we can do from anywhere. No matter where our physical location is. I will never forget the day Joseph came out of his bedroom and looked at me and said, 'mom! I got a 90 on that test!' He was so excited and re-energized and that gave him the confidence he needed. Once we started on this path, he took off with it. He completed his education six months early. Your program restored his confidence and gave him the kick he needed. Now in college, he's made Dean's List and President's List. Penn Foster turned him into a super student. I'm so thankful for you guys and I wish more parents would look into Penn Foster. Especially now with the pandemic and having to go to school remotely, you guys offer such support for the students. They can always get in touch with the teacher and ask questions if they have them. It's just wonderful.
How has your student's Penn Foster High School experience been?
Patricia: Excellent! Absolutely excellent. There's so much support when it's needed, and I love that it's at their own pace. It's just a perfect solution to our situation. The support system is there, everything is available, and it's easy to understand. The self-paced environment makes students feel like they don't have to stress if they don't get to a test on Friday. Because it's self-paced it accounts for what's going on, because things can come up. I have sympathy for the parents who are now being forced into homeschooling and don't know how to do this stuff. When I heard everything is going to online learning I thought, 'that's okay. We already know how to do this.'
How do you keep your learner motivated?
Patricia: Your emails and texts to me help. I let my student know that Penn Foster is encouraging them for their next exam, and that gives Laura the push she needs. Once my son saw his first 90 percent, that was all the motivation he needed. It's not hard to motivate them. I'm blessed with the best kids in the world.
What does their study schedule look like?
Patricia: Laura is doing four hours a day, sometimes six when she's on a subject she really likes. Penn Foster helped Joseph stay on track. He's in college now taking some serious classwork. But he knows he has to dial everything in. I believe his experience with Penn Foster is largely responsible for keeping him on track. He was required to pace himself and now he knows how to. I've tried to instill in my children you get out what you put in.
You may also enjoy: A Day in the Life of an Online High School Student
How has an online education helped your student?
Patricia: It has helped provide them with a way to go to high school that isn't frustrating for them and isn't limiting to them. The other thing I like about your program is the general education classes. Penn Foster teaches you life skills. Like the consumer math course. Laura hates doing percentages, but I tell her this is teaching you life skills. I think a lot of traditional high schools fail in that. Like how to balance a checkbook, they don't teach that. But Penn Foster pushes you in that direction. I think it's going to help them forever and help them be successful adults, which is what we want.
How do you compare traditional high school to online high school?
Patricia: I like the way that the online learning environment, with its support system, lets the kids go in with more confidence. They don't have to face social distractions which helps keep them focused on their schoolwork. I also like your curriculum better than traditional high school. Also, Laura is excited to see what her electives choices are. Penn Foster includes that in the curriculum, so students get to learn those life skills. I also think it's a less stressful and a more individually encouraging environment for the kids. It provides a calmer setting for kids to learn.
How do you feel it's different from parents being the teacher?
Patricia: I know when we were trying to homeschool Laura in her last year, we switched to an independent learning system with the local school. It was frustrating. The teachers didn't know how to use the system and we struggled with not being able to find the answers. Where with Penn Foster, it's a more step-by-step approach and you have the resources for students if they do run into trouble anywhere. Being you already have the system completely set up and you're so organized, a response is a simple email away. I think it's a perfect solution.
Read more: How Online High School Gave Kylee the Tools to Graduate Early
How did Penn Foster hold up to your expectations?
Patricia: To be truly honest, I wasn't expecting it to go this well. I was expecting it to be a struggle and a pain. But I knew it would be a better option. I'm so happy we made this choice. It really has made all the difference in the world in our lives. From the bottom of our hearts, thank you Penn Foster.
Learn more about online high school.
Penn Foster High School offers a self-paced, flexible way for your student to learn. Our admissions specialists are here to help answer your questions. Call us at 1-800-275-4410 to get started.