Military Benefits
Affordable Education for Veterans
When you choose Penn Foster High School, Penn Foster Career School, or Penn Foster College,* you're selecting a Victory Media designated Military Friendly® online school that has proudly worked with veterans for more than 90 years. Our military service program is dedicated to helping veterans like you achieve success as civilians. Let us help you build your resume and transition to the bright future you deserve.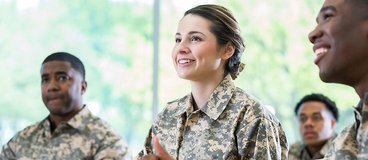 Veteran Education Benefits
More questions on Military Benefits?
Visit our FAQs page for answers to popular questions.
Learn More
Need more info or ready to enroll?
We're here to help. Call 800-275-4410 10AM - 6:30PM EST
*Start for $1 offer applies to select programs.