Military Benefits
Affordable Education for Veterans and Active Duty Military Personnel
When you choose Penn Foster High School, Penn Foster Career School, or Penn Foster College,* you're selecting a Victory Media designated Military Friendly® online school that has proudly worked with veterans for more than 90 years. Our military service program is dedicated to helping veterans and active duty military personnel like you achieve success. Let us help you build your resume and transition to the bright future you deserve. See why we were granted Gold Military Friendly Status and are a Top 10 School for 2022-2023, and why our online courses and programs are a great fit for any military personnel.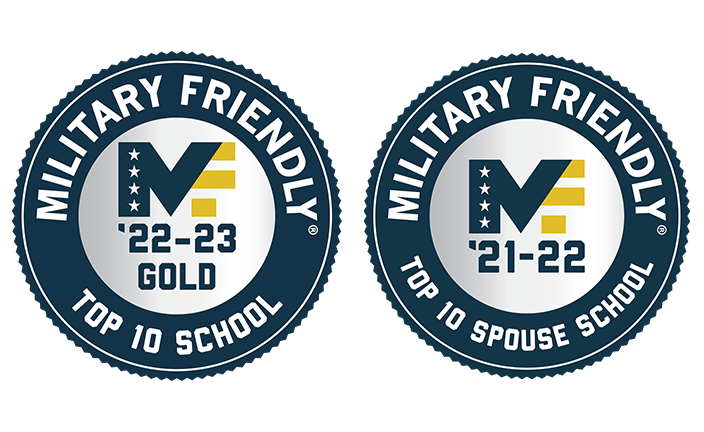 Military Education Benefits
Video Transcript
My name is Destini Willis and I did medical billing and coding at Penn Foster I was in the military for eight years and I decided once I got out I needed to figure out what I wanted to do next the impact that Penn Foster has made has been a great one now I feel that I could walk in somewhere and you know sit down and actually do my job and you know being a better person and be a better coder and biller my favorite part about being a Penn Foster student was that even though it's self-paced you have the help from either a phone call away or click away especially from the student portal using that so my biggest accomplishment in my life that I'm proud of is actually graduation I was able to focus more and I just feel that I've earned it and I'm really excited I believe that continuing education is very important no matter how old you are where you come from and that's actually what I liked about Penn Foster is that you do have a high school program so even if you feel like you can't do it there's always different ways to earn something and continue your education what I've learned about myself is that I'm able to do anything I want I just have to set forth my goal and even if it's a day at a time as long as I reach it you know I started the program in November and I was like once I saw that they had a graduation I was like I want to be at that graduation not next year this year to be at the graduation was highly important to me I want to walk across that stage and feel so accomplished and have my daughter's see me walk across the stage sorry but um my daughter's five and to see to have her mom walk across the stage to know at 30 in her thirties she can do anything that she puts her mind to.
Meet Destini, a Veteran and Penn Foster Graduate
2019 Medical Billing and Coding Graduate, Destini Willis chose online education to help her gain the skills for the next phase of her career. Discover her story and learn more about how a flexible, online education may work for you.
You can also read on our blog about how Penn Foster worked for Criminal Justice Graduate and 2016 Penn Foster Graduate of the Year, Omar Haughton.
More questions on Military Benefits?
Visit our FAQs page for answers to popular questions.
Learn More
*Start for $20 offer applies to select programs.