Online Electrician Training​
Learn the skills that will help you take your first step toward a career as a Residential Electrician. With Penn Foster Career School, you can take affordable electrician courses online and study where and when you want. Our interactive program covers modern industry trends such as smart home technology, and includes a virtual simulation experience, student discounts from Snap-on, and complies with the latest version of the National Electrical Code®.
Why Become a Residential Electrician?
The demand for electricians is expected to grow by 9% between now and 2026.¹ With over 60,000 electrician jobs expected to open up in the next several years, now is a great time to get the online electrical training that will help you pursue a career in this high-growth field. The average annual salary for an electrician is $52,720.¹
Why Choose Penn Foster Career School?

On-Demand Learning
Do not wait for a class to start — you decide when to begin with our on-demand learning platform.

Dedicated Success Coaches
You're guided by Certified Instructors, Success Coaches, Teaching Assistants, and Student Support Staff - all working to help you succeed.​

Mobile-Friendly
Take our Residential Electrician program with you wherever you go. Our custom-designed student learning platform is easy to use at-home, or on-the-go.

Set Your Goals and Pace
Customize your study and exam schedule with progress-tracking and goal-setting tools that keep you moving forward.

Proven Reputation
With 44,000 graduates in 2017 from our regionally and nationally accredited High School and Career School and nationally accredited College, you're in good hands!

Connect with Other Students
Connect in real-time with your peers in your career area in our discussion boards.
New Learning Platform with Easy-to-Use Exercises and Flash Cards
With interactive, mobile-friendly courses, progress-tracking and goal setting tools, and personal coaches to help you succeed, the Penn Foster Experience (PFx) is an online learning experience like no other. Connect with peers and faculty in real-time through our discussion boards, and use our built-in self-checks and interactive flashcards to review what you've learned before taking your exams.
Residential Electrician Course Details
Our Residential Electrician training program covers topics that will help you on your path towards becoming a residential electrician. You'll learn about working safely with electricity, the National Electrical Code,® smart home technology, electronic security, telecommunications wiring, and much more. Our program includes a web-based virtual simulation that allows you to complete a number of wiring scenarios, working with real-world, full-home wiring and troubleshooting situations.
Electrician School Tuition
With our flexible, affordable payment options, you can get started on your online Residential Electrician training online today.
There are real people to help, real people who care and support you along the journey, and everything is tailored to who you are so that you can succeed.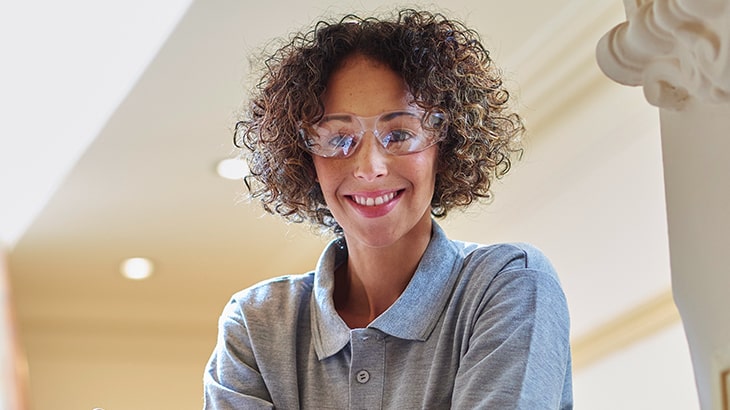 What Can You Do With an Electrician Diploma?
If you're interested in beginning a career in an essential industry, earning your Residential Electrician diploma can help you take the first steps toward reaching your goals. Electricity is used in almost every home, office, park, cafe, school... basically, anywhere you can think of, allowing trained electricians to find jobs in a variety of environments! While many Residential Electricians work for contractors and construction companies, some also find jobs in manufacturing or with the government. Whether working for themselves or finding an electrician job with an established company, most electricians are employed full time.¹ With Penn Foster's online Residential Electrician training program, you can build a solid foundation on basic electrical theory and skills that can help you take the steps toward starting a career with job security!
Ready To Enroll?
Get started today on your path toward an exciting job as a Residential Electrician with Penn Foster Career School's accredited, online program.
Enroll Now
Hundreds of leading employers and workforce organizations partner with Penn Foster to attract, develop, and retain talent for today's in-demand middle skilled occupations.