Earn Your Floral Design Career Diploma Online​
Penn Foster's online Floral Design program can help you gain new skills and knowledge in a rewarding and creative field. Take your first steps toward preparing for a job you love, at home and around your schedule!
Is Floral Design For You?
If you're creative, detail-oriented, and have a sense of art and style, working as a florist or floral designer could be the career you've been searching for! As a Floral Designer, you can work for a floral shop, wedding and party planners, in professional nurseries, or even start your own business. With an opportunity to see your creative side flourish, work closely with clients to design flower arrangements, and watch your career confidence bloom, there's no better time than now to get started.
Why Choose Penn Foster Career School?

Start and Study When You Want
Learn at home or on the go through our custom-designed, mobile-friendly student portal, available 24/7.

Dedicated Success Coaches
Our Success Center is made up of Certified Instructors and Success Coaches, Teaching Assistants and Student Help Staff all working to help you succeed.

Curriculum for Success
Get the skills and knowledge to help you prepare for a career in Floral Design.

Set Your Goals and Pace
Customize your study and exam schedule with progress-tracking and goal-setting tools that keep you moving forward.​

Proven Reputation
With 58,000 + graduates in 2019 from our accredited high school, career school, and college, you're in good hands!

Connect with other students
Connect in real-time with other Floral Design students in the Penn Foster Community.
A Customized Learning Experience
With mobile-friendly coursework, progress-tracking and goal-setting tools, virtual simulations, informative videos, and personal coaches to help you succeed, the Penn Foster Experience (PFx) is online learning like no other.
Floral Design Career Diploma Course Details
Our online Floral Design classes cover relevant topics such as Design Tools and Basics, Design Techniques, and the Business of Floral Design. Your courses also include practical, hands-on exercises that allow you to apply and practice what you've learned while developing a diverse professional portfolio that can help you showcase your designs.
Floral Design Tuition
With Penn Foster Career School's flexible, affordable tuition, you can get started on your online Floral Design program today.
The materials were easy to follow, tests were just challenging enough, and there was always help available if you needed it. Whether that be from the school, professors or the community there was always an answer!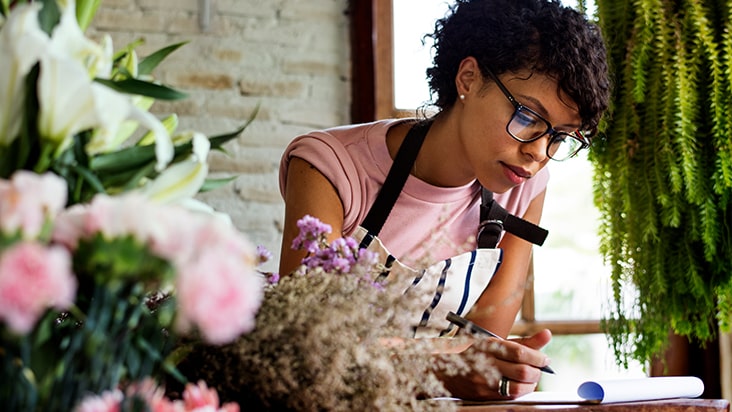 Ready To Enroll?
Get started today on your path toward becoming a Floral Designer with Penn Foster Career School's online Floral Design Career Diploma.
Enroll Now
Hundreds of leading employers and workforce organizations partner with Penn Foster to attract, develop, and retain talent for today's in-demand middle skilled occupations.