Pursue a Career as a Physical Therapy Aide
Take the first steps toward a career that allows you to help people in their time of need with Penn Foster Career School's Physical Therapy Aide program. Physical therapist aides work under the supervision of a physical therapist to help patients regain movement and manage pain as they recover from injuries or illnesses. You can gain the skills you may need to work in this field in as little as one month.
Why Become a Physical Therapy Aide?
There are many opportunities to help others get back on their feet as a physical therapy aide. Penn Foster Career School can help you learn the skills to take the first step towards working in a variety of settings as a physical therapy aide, including schools and clinics, hospitals, nursing homes, sports medicine centers, and more. Take this rewarding career path with online classes — learning when and where you want, at the pace you want.
Why Choose Penn Foster Career School?

Start and Study When You Want
Learn at home or on the go through our custom-designed, mobile-friendly student portal, available 24/7.

Dedicated Success Coaches
You're guided by Certified Instructors, Success Coaches, Teaching Assistants, and Student Support Staff - all working to help you succeed.

Curriculum for Success
Get the skills and knowledge you need to help you prepare for a job as a physical therapy aide.​

Set Your Goals and Pace
Customize your study and exam schedule with progress-tracking and goal-setting tools that keep you moving forward.​

Proven Reputation
With 44,000 graduates in 2017 from our regionally and nationally accredited High School and Career School and nationally accredited College, you're in good hands!

Connect with Other Students
Connect in real-time with other physical therapy aide students in the Penn Foster Community.
Work Experience Option
Upon completion of your Physical Therapy Aide program, the self-arranged Work Experience Option allows you to seek out and gain experience with an employer near you. Though this is not required for program completion, this optional exercise allows you to gain practical, hands-on experience in a real-world job environment. Earn a certificate of completion upon graduation for your work experience as a physical therapy aide.
A Customized Learning Experience
With mobile-friendly coursework, progress-tracking and goal-setting tools, virtual simulations, informative videos, and personal coaches to help you succeed, the Penn Foster Experience (PFx) is online learning like no other.
Physical Therapy Aide Course Details
Program topics include medical terminology and knowledge of common physical dysfunctions and disorders, treatment techniques such as deep heating treatments and cryotherapy, common therapeutic exercises for strength and mobility, and communicating effectively with patients, the rehabilitative team, and other personnel.
Tuition
With flexible, affordable payment options, you can get started on your Physical Therapy Aide training online today.
Thanks to Penn Foster I am much more knowledgeable than most of the coworkers.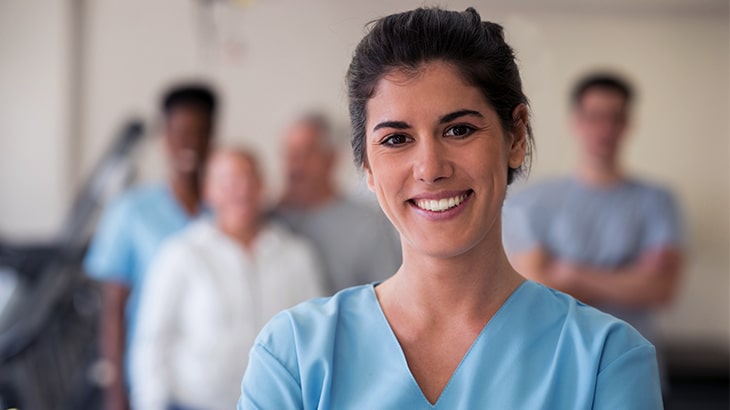 Ready To Enroll?
Get started today on your path towards helping others as a Physical Therapy Aide with Penn Foster Career School's accredited, online program.
Enroll Now
Hundreds of leading employers and workforce organizations partner with Penn Foster to attract, develop, and retain talent for today's in-demand middle skilled occupations.