Engineering Technology
Associate Degree
16-24 mo
Associate degree in Engineering
In our Associate Degree in Engineering Program, you can gain the knowledge and skills needed to start a new engineering career. Self-paced, online courses help you develop in-demand skills, preparing you for an entry-level job market.
Helps prepare students for entry-level positions working in mechanical, electrical, and industrial engineering.
Potential for employment in emerging fields such as automation, 3D printing, and alternative energies.
Accredited degree awarded under licensing from the Arizona State Board for Private Postsecondary Education.
First Semester
$1,259
$1,504 Save $245
or
$60/month, Start for as low as $1
1-800-471-3232 (9AM - 9PM EST)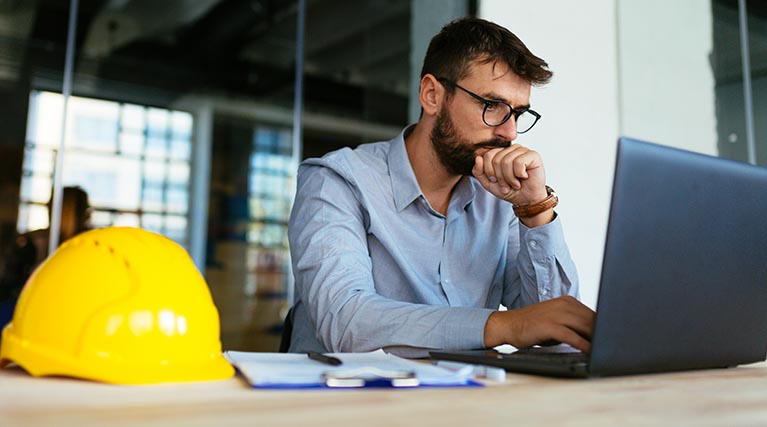 What You Will Learn
How to read and interpret technical drawings, including those used in engineering applications, and understand the basics of computer-aided design (CAD).
The manufacturing processes of equipment, as well as how to use measuring devices and quality control equipment.
How to interpret the basic concepts of pneumatic systems and how they compare and contrast with hydraulic systems.
What are the safety facts and practices associated with electrical, chemical, fire, material-handling, and machine hazards.
Full Program Goal & Outcomes
Engineering Technology Career Outcomes
Mechanical Engineering Technicians

Our programs are designed with job-readiness in mind. Study the engineering technology skills you need while preparing for any required industry certifications and state licenses.
State Licensing Requirements
Professional licensing requirements vary greatly from state to state throughout the United States and may contain specific educational course approvals. You should contact your state's appropriate licensing bureau for the current requirements, or your state legislature for pending legislation.
Click here for contact information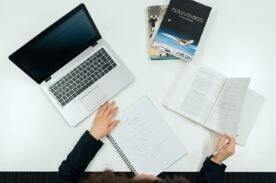 What is an Engineering Technology Degree?
Engineering Technology Student Stories
Penn Foster's Engineering Technology Associate Degree can help prepare you for the first step toward a new career. This program has helped recent graduates learn at their own pace, find new jobs, and advance in their current roles. Learn more about Penn Foster graduates' experiences and how Penn Foster worked for them.
View Student Success Stories
Javier C.
Engineering Technology Graduate, 2020
"With the help of Penn Foster I gained confidence to take over new projects and challenges in my career."
Engineering Technology Degree Curriculum
4 semesters
64 Continuing Education Units (CEUs)
31 exams
Our comprehensive online Engineering Technology Degree curriculum is designed to help students familiarize themselves with the knowledge and skills needed to prepare to gain entry-level positions as engineering technicians.
Drafting with AutoCAD
Engineering Mechanics
Quality Control Systems
Computer Applications
Precision Machining Operations
AutoCAD Applications
Show Full Curriculum
Looking for skilled trades training for your workers?
Penn Foster currently works with hundreds of leading employers to meet their unique organizational needs.

Learn More
Engineering Technology Associate Degree Tuition
Take the first steps toward a new career with our Engineering Technology Associate Degree Program. Simply choose from one of our low-cost customized payment plans below and get started today!
First Semester
Best price. Best value.
Pay the full cost today
No monthly payments
Enroll Now
First Semester
Pay $60 per month
Start for $1 down
Credit card, PayPal, or ACH from bank account
Enroll Now
First semester
Pay $60 per month
Start for $39 down
Mail your payment using coupon book
Enroll Now
Need more info or ready to enroll?
Looking for more information on transfer credits, military benefits, or our refund policy? Find this information and more about tuition and enrollment here.
Tuition & Payment Options
Our Proven Engineering Learning Model
Empowering students to reach their professional goals

Flexible
Start any time
Self-paced learning
Payment plans
Interactive
Live support
Supportive instructors
Goal tracking
Connected
Student community
Digital textbooks
Career support
Supportive
Career services
Academic guidance
Counseling
Engineering Technology Degree FAQs
What is engineering technology?
Engineering technology is all about using science to problem solve. The main focus centers on how to apply actual engineering techniques to solve real-world problems.
What is the career outlook for a mechanical engineering technician?
According to the Bureau of Labor Statistics, the need for mechanical engineering technicians is expected to grow by three percent over the next 10 years.
What skills are required to become an engineering technologist?
If you're looking to become an engineering technologist, it is best to earn an associate degree. The basis of this degree should focus on computer skills and math skills like algebra.
How long does it take to become a mechanical engineering technician?
Typically, a mechanical engineer is expected to hold at least an associate degree. This means that it can take up to two years to earn your qualifications. However, Penn Foster allows self-paced study, which means you can work faster or slower. It all depends on what works for you and your schedule!
Sources:
* Bureau of Labor Statistics, U.S. Department of Labor, Occupational Outlook Handbook, "Mechanical Engineering Technicians", visited April 14, 2021.
Statements found in the United States Department of Labor Occupational Outlook Handbook are not a guarantee of any post-graduation salary, in part because the data used to create the Occupational Outlook Handbook includes workers from differing educational backgrounds, levels of experience, and geographic areas of the country.