Penn Foster Group Graduation
Learn more about our in-person graduation ceremonies & how to celebrate your success!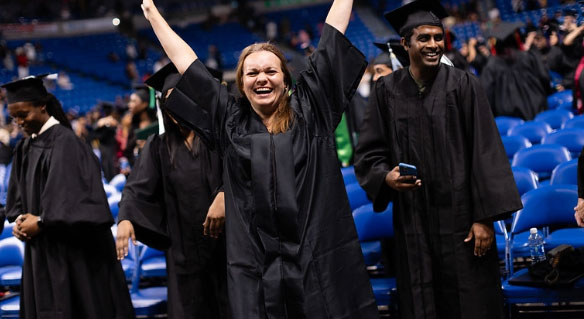 Celebrate Your Success
You've worked hard to complete your diploma or degree. You deserve to celebrate your accomplishment! Celebrating your success can mean sharing a picture of your diploma on social media (don't forget to tag us so we can give you a shout out!), throwing yourself a graduation party, or sharing your story in our digital yearbook! You could also attend our in-person graduation ceremony. If you missed the 2023 Commencement, check out the highlights below.
Why We Love Graduation
At Penn Foster, graduation day is our favorite day of the year! In 2023, we saw over 1,000 graduates from 5 Penn Foster Group schools walk across the stage and loved seeing everyone celebrate their accomplishments. Besides getting to meet graduates from across the country, there were inspirational speeches and even a musical performance from Penn Foster grad, Latora Parnell.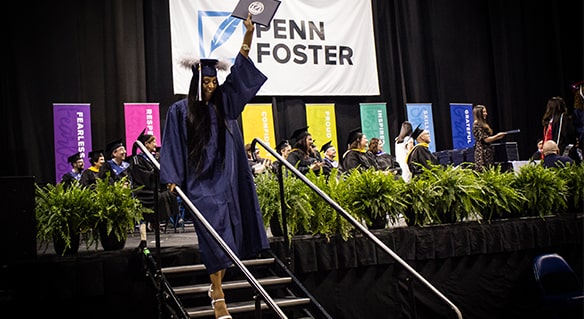 2023 Graduation Highlights
2023 Penn Foster Group Graduation Photos
Check out photos from the 2023 graduation ceremony to see what all the hype is about.
View Photos
Penn Foster Yearbook
Share your story and success by participating in the Penn Foster Yearbook. The yearbook is digital and updated year-round so you can participate no matter when you graduate. You can add your name to the yearbook or just check out posts from other Penn Foster grads for inspiration
here
.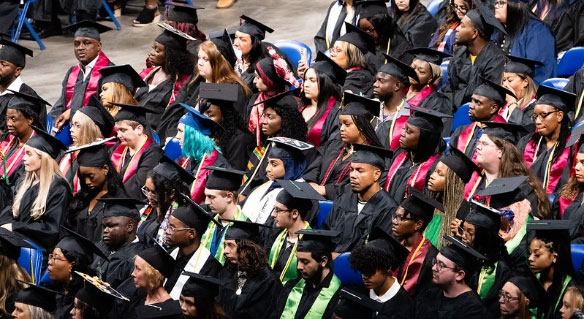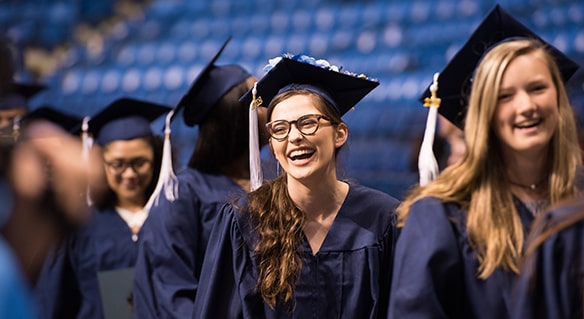 About Our Graduates
You're joining tens of thousands of students who have graduated from Penn Foster, and
our partner schools
, this year to start or advance their career path, seek higher education, and master a range of skills and hobbies. We asked our alumni in 2022 what it's like to be a Penn Foster graduate, and 97% of Penn Foster them say they're satisfied with their program, 95% felt they achieved their goals since graduating, and 97% would recommend Penn Foster to a friend.*
Celebrating You and Your Successes
No matter where you are in your educational journey at Penn Foster, we are so incredibly proud of you. Thank you for making 2023 such a great year with so many memorable moments. Here's to 2024 and the open doors that await us all.


Video Transcript
0:01
dear pen Foster Family whether you're a
0:04
new student taking the first steps of
0:06
your educational Journey this year or a
0:08
graduate who's finally crossed the
0:10
Finish Line your accomplishments deserve
0:13
recognition pen Foster students
0:16
everywhere have been working hard
0:18
overcoming obstacles and making progress
0:20
toward the Futures they want together
0:24
you've accomplished so much in
0:26
2023 this year we're celebrating all of
0:29
you who have made the time and
0:30
commitment to work toward your goals all
0:33
of you who have earned your diplomas
0:35
degrees and certificates all of you who
0:38
became finalists for the dec's graduate
0:41
of the Year Award with one of you
0:43
claiming the title and all of you who
0:45
Rose to the occasion and pledged to take
0:48
on the motivate to graduate high school
0:50
completion
0:51
challenge you've believed in your
0:53
potential and made a commitment to open
0:55
new doors through education we're so
0:58
incredibly proud of you
1:00
so thank you from all of us at pen
1:03
Foster you've made 2023 such a great
1:06
year and we can't wait to see what the
1:08
next one has in store for
1:14
you
English (auto-generated)
AllFor youRecently uploaded


*2022 Penn Foster Alumni Mobility Survey.