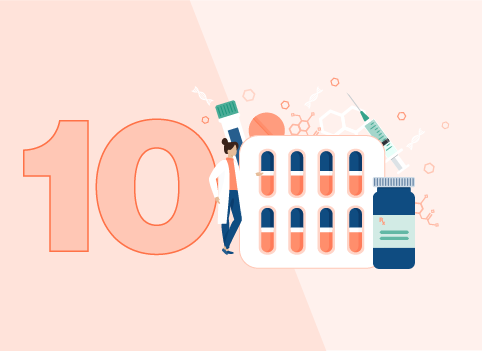 Healthcare
10 Reasons to Become a Pharmacy Technician [Infographic]
Becoming a pharmacy technician offers a lot of benefits! Besides joining a rewarding industry, here are 10 reasons to consider becoming a pharmacy tech today. 
Becoming a pharmacy technician offers a lot of benefits! Besides joining a rewarding industry, here are 10 reasons to consider becoming a pharmacy tech today.
1) Pharmacy technician job growth
With more pharmacists taking on additional job duties, pharmacy technicians are relied on more than ever. Besides helping pharmacists dispense prescription medications, they package and label medications, work with customers to ensure prescriptions are accurate, and process insurance information. The Bureau of Labor Statistics predicts that 31,700 new jobs in the field will be created each year over the next decade!
2) Many job opportunities
There are many job opportunities for skilled pharmacy technicians. Pharmacy techs can work in retail pharmacies, grocery stores, hospitals, long-term care facilities, and even sometimes in research facilities.
Learn more: How to Become a Medical Transcriptionist
3) Flexible work schedules
Working as a pharmacy technician doesn't necessarily mean a Monday through Friday, 9-5 job. In fact, depending on where you work, your schedule can be flexible including working nights, swing shifts, and weekends. This variable kind of schedule can be great for someone who may need time off during the standard work week or isn't necessarily a morning person.
4) Job stability
At busy pharmacies, pharmacy technicians play a vital role in ensuring prescriptions are filled and customers are served in a timely manner. Because pharmacists rely on them to handle many tasks throughout the day, there's the potential for job stability and even growth! Without trained pharm techs, a pharmacy can't run well, so you can be assured you'll be needed in the field.
5) Learn about new medications
The healthcare industry is constantly changing and adapting to new technologies. That includes the pharmacy industry! With new medications for a variety of diseases and illnesses being created on a regular basis, you'll always have something new to learn. As a pharmacy technician, you'll get updates and learn about new medications before they're available so you can best assist the pharmacist and help customers.
Learn more: How to Become a Dental Assistant
6) Variety of work options
Since pharmacy technicians are responsible for a variety of tasks in the workplace, no two workdays may be the same. Pharmacy technicians can also work in different environments, so while a retail pharmacy tech might need to have excellent customer service skills, a tech in a compounding pharmacy might need to have stronger organizational skills.
7) You can work anywhere
There are pharmacies, hospitals, compounding pharmacies, and more in almost every town across the country. That means that, as a trained pharmacy technician, you can find a job nearly everywhere you go. It's important to remember, though, that different states may have different regulations regarding the training, certifications, and licenses a pharmacy technician needs to work. If you earn pharmacy technician credentials in one state and decide to move to another, before assuming you can just start working, check in with the State Board of Pharmacy to make sure!
8) Constant education
Like all healthcare professions, pharmacy technicians are expected to learn new things and update their skills on a regular basis. That means that, in this role, you'll constantly be learning and growing in your career!
9) Earn a certification
Certifications and other credentials are a great way to stand out from other job applicants in your field. Once you complete your pharmacy technician training online, you're able to prepare to take the next step: sitting for your certification! The most common and recognized certifications are the Pharmacy Technician Certification Exam (PTCE) offered by the Pharmacy Technician Certification Board (PTCB) and the Exam for the Certification of Pharmacy Technicians (ExCPT) offered by the National Healthcareer Association (NHA).
In some states, having this credential is required to work in the field. In others, it may not be required yet. However certification demonstrates that you have the skills needed to be successful on the job, making it more likely that you'll have a stronger resume for when you apply to jobs.
10) Active career
As a pharmacy technician, you won't be tied down to a desk for 8 hours a day. Instead, you'll mostly like be on your feet and active for the majority of your shift. You'll help customers and patients, lift and sort inventory, fill prescriptions, and more.

Take the first steps toward a pharmacy technician career
Through Penn Foster's online Pharmacy Technician Career Diploma, you'll prepare to take the first steps toward a rewarding career. After learning about pharmacology, pharmacy management software, and compounding, you'll review what you've learned in preparation for the PTCE. To learn more about how to become a pharmacy technician or enroll in the program, reach out to our expert Admissions Specialists today at 1-888-427-6500!