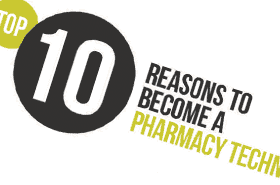 It doesn't take a medical degree to make an impact in the healthcare field. In fact, some of today's most important medical professionals work behind a counter. From packaging and labeling prescriptions to organizing inventory and interacting with customers, life as a pharmacy technician is rarely dull. And as our aging national population creates more healthcare patients, the field will only continue to grow. Are you prepared to grow with it?
Learn more about Penn Foster's Pharmacy Technician program.

Statistics found in the United States Department of Labor Occupational Outlook Handbook are based on national data, so job growth in your area may be different, and post-graduation salary depends on educational background, level of experience, and geographic area of the country.