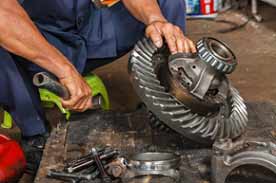 The automotive field contains many diverse and rewarding careers. As long as there are vehicles on the road, there will always be a need for talented technicians to repair and maintain them. Whether you enjoy working on motorcycles, trucks, or vehicles in general, you can earn your automotive degree or certificate online at Penn Foster. Read on to find the program that's right for you.
Auto Repair Technician
The Auto Repair Technician Program can help you take the first steps toward working at a dealership, repair shop, or even start your own repair business. Flexible at-home lessons combined with hands-on tutorials and repair simulations can help you gain real-world knowledge and skills. Courses in this program are designed to help you learn how to identify and repair different types of engines, suspension and fuel systems, electrical components, brakes, and steering. The program also includes study manuals to help you prepare for the National Institute for Automotive Service Excellence (ASE) Certification Exam. Once you pass this exam, you can begin your job search for a career as an auto repair technician.
Diesel Mechanics/Heavy Truck Maintenance
Do you have a passion for trucks? The Diesel Mechanics/Heavy Truck Maintenance Training Program is open to anyone regardless of prior work experience, and can help you prepare for your ASE certification in this specialized field. You'll study diesel engines and computerized truck systems online, and at your own pace. The program can take as little as seven months to complete.
Motorcycle Repair Technician
Motorcycle repair technicians work with motorcycle and ATV components such as engines, brakes, suspensions, and transmissions. Like Penn Foster's other automotive career programs, you can earn your diploma online in as little as four months as you study on your own schedule. This program also includes a Work Experience Option, which allows you to gain field experience related to your program and career goals.
Small Engine Repair
Small engine repair is a niche field that focuses on the assembly, disassembly, and repair of small engines. In our Small Engine Repair program, you'll work on engines used to power everything from cars to lawn mowers to motorboats and more. You'll also receive special study materials designed to help you prepare for the Outdoor Power Equipment Association (OPE) certification exam. The program can take as little as four months to complete.
Automotive Transmissions Essentials
The Automotive Transmissions Essentials Certificate Program is geared toward those with basic knowledge and/or experience in automotive repair. Courses in this program cover an array of topics that can be applied to many different types of automotive settings. With lessons on transmission theory and opportunities for hands-on practice, you can work to develop a well-rounded skillset sought after by employers. Due to the focused nature of this program, you can complete this program in as little as two months.
Many of Penn Foster's online automotive career programs also come with discounts on tools and course materials. To learn more about flexible online programs and degrees, contact Penn Foster Career School today.