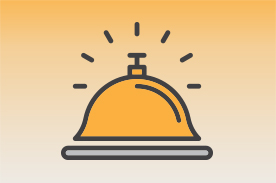 Guest Service Agents, Hotel Concierges, and Guest Relations Associates serve as front-line representatives for hotels and resorts, ensuring guests' needs are met during their stay. As someone who is responsible for making sure paperwork is filed correctly, as well as the safety of the guests' information, you're one of the most important people on staff! While many hotels and resorts will give you on-the-job training, having a career diploma on your resume can put you on top of the prospective hire list! If you're not sure that studying to become a Guest Service Agent is right for you, check out some of what you'll learn!
The Hotel Industry. This course will introduce students to the importance of the hospitality rating system, the various types of hospitality organizations, typical hotel organizational structures, standard operating practices within hotel and hospitality industries, industry terminology, and the various ownership structures of a hotel.
Hospitality Accounting and Reporting. This course will provide students with the necessary accounting building blocks to prepare them to perform basic bank balancing. It will also introduce students to accounting principles and concepts that will assist them in the review, interpretation and preparation of required front desk reports.
Hospitality Leadership and Supervision. This course will provide students with the tools necessary to position for that next level within the hospitality industry. Students will be exposed to Total Quality Management methods for managing staff.
The Guest Experience. This course will describe effective customer service techniques within the hotel and hospitality industry. It will focus on identifying the key goals to customer service and using the quality assurance process translates into a quality guest experience. The course will also review the skills necessary to effectively respond to guest complaints or special needs. Finally, this course will illustrate the importance of understanding the nuances associated with guests from different cultures.
An online Guest Service Agent training course can help you gain the knowledge you need to be outstanding in the field! You'll also benefit from instructors who have real-life experience at resorts and hotels. If you're considering a move into the hospitality field, a career diploma can be a great place to start!