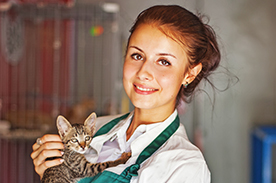 There are around 30,000 active veterinary clinics and hospitals around the country. Whether they are private practices or corporate clinics, they see to the care and treatment of your furry friends. And while the veterinarians and trained veterinary technicians are there to diagnose and treat your pet, someone has to keep track of appointments, make sure the office is fully staffed, and that everything is taken care of. That's where a veterinary practice manager comes in! They take care of business so the techs and doctors can concentrate on the medicine, making them a vital part of a thriving clinic or hospital. If you're considering a career where you work with animals, but want to avoid surgery and in-depth science courses, here's what you need to know about becoming a Veterinary Practice Manager.
What does a Veterinary Practice Manager do?
Like a manager anywhere, the practice manager is responsible for the day-to-day operations of the business. Depending on the needs of the practice and the size of the practice, this can include everything and anything outside of medicine. As a Veterinary Practice Manager, you could find yourself creating schedules to make sure the office is fully staffed, hiring or firing staff, managing the accounting, advertising, and completing other tasks to grow the business and keep it thriving.
What skills do you need to be successful in the role?
Soft skills are always a must for any position in which you need to interact with clients, coworkers, and people in general. Additionally, when pursuing a managerial role, you should have some innate leadership skills and a take charge attitude. Tasks and processes can be learned with dedicated study, but an affinity toward working well with others and guiding a business is a bit more difficult to teach.
How in demand is a trained Veterinary Practice Manager?
A trained and confident practice manager is essential to a smooth-running business. Dr. Jim Hurrell, in a recent interview, said that in "today's business economy, smart veterinarians of any age will need a practice manager." Most veterinarians who start their own practice are well-versed in diagnostics, medicine, and bedside manner; they lack, however, business savvy. That's where the practice manager comes in! With corporate and private clinics across the country, the need for knowledgeable practice managers can only grow.
Do you need to be certified to be hired?
You don't. Unlike more technical and licensed positions in the animal clinic, practice managers don't need to seek certification to successfully find a position. However, if you're looking to make yourself even more invaluable in the field, you can pursue certification through the Certified Veterinary Practice Manager exam offered through the Veterinary Hospital Managers Association. Currently, there are only about 500 CVPMs in the country and need is expected to grow significantly, making the possible wages highly competitive for those who do have the certification.
Today, we care more than ever about the health of our animal friends and those working in veterinary medicine have a position that is relatively safe in a sometimes rocky economy. Becoming a Veterinary Practice Manager can be lucrative, challenging, and meaningful. You'll also learn skills in class and in real life that can be transferable to many other business-minded industries!