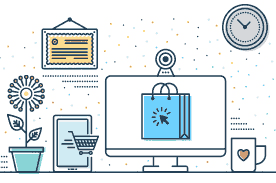 These days, with the seemingly endless possibilities provided by a solid wifi connection, opening your own business is a totally obtainable goal! It does, however, require some preparation. If you've been considering starting your own online business, but aren't sure where to start, check out this information to help you take the first steps:
Decide what kind of online business you'd like to run. If you've been thinking about being your own boss and starting your own business, you probably have an idea of what you'd like to sell. If you're crafty, you can open a business or Etsy store where you sell your work. Or, if you have a particular skill, such as Pet Grooming, but don't want to work in a pet store, you can open your own grooming service online. Once you know what you want to do, you can start researching what you need to do to start your online business.
Create a business plan. So, you've decided what kind of business you want to run; now, you need to put together a comprehensive plan to make sure you have everything in order. A business plan is more than a paragraph or two outlining your dreams and goals for your business. Depending on what, if any, start-up costs you have, you may need to consider financing. For that, you're going to have to have a solid plan in place, with a detailed description of your business, as well as what kind of product or services you'll be offering and at what rates. A solid business plan can help you start your business with no loose ends.
Learn to manage your time. This can be tough if you've never been self-employed before so learning how to budget your time, as well as your money is going to make a big difference in your business. You'll also want to make sure you know how to set appropriate rates for your goods and services, how to keep orderly records and how to manage your time and your responsibilities.
Being your own boss can be challenging and rewarding. If you've never worked in business before, or want to make sure you start your business the right way, consider enrolling in some business classes. Taking an online course like Penn Foster's Starting Your Own Business career program can ensure you start your business off right and are on your way to success!