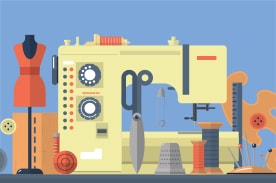 It's not often that we're able to turn a hobby we're passionate about into a full time, fulfilling career. It's not impossible, though. Do you find yourself looking for any excuse to be outdoors and love nothing better than a hike through a dense forest on your day off? A career in forestry may be a dream come true for you! There's more career opportunities in the field than you would think; you don't have to be a Ranger Smith, protecting picnickers from hungry animals like Yogi Bear. If you're not one hundred percent satisfied with your current career and are looking to find work in a field you love, take a few minutes to learn a little more about wildlife and forestry conservation below!
What's Wildlife/Forestry Conservation?
Wildlife/Forestry conservation is a catch-all term for several different careers and out-of-doors work opportunities. Depending on where you call home, a wildlife or forestry conservation specialist can take on several career titles and duties. Whatever your title or position ends up being in this field, those in the industry tend have the same end goal: conserving and preserving natural areas like parks, forests, and reserves. They also ensure the public is educated and aware of the different precautions needed to protect themselves and the animals in the area from harm. Besides preservation and awareness, a professional may be responsible for clearing excess brush and weeds that make be choking the local trees and paths, as well as being involved in controlled burns or forest fires to clear away harmful plants.
What can I do in the field?
If you're considering getting into this field, you already have a passion for nature and wildlife. But what, exactly, can you do working in the woods? You can, of course, be a park ranger, educating and guiding visitors to state and national parks through precautions they should take while wandering in the paths in the area. There are also many diverse opportunities for a trained conservationist. A lot of professionals in the field work for government and state agencies, whether that means the park service or environmental protection agencies. You may even find a place working with utility companies, plotting and clearing forested land for new water lines or power lines while still protecting and maintaining the integrity of the area. Others find themselves working for campgrounds, watching over the humans who stay in the area overnight as well as ensuring no harm comes to the flora and fauna they find there. The opportunities in this field are almost as endless as the sky and it's only a matter of pinning down what, precisely, you are most interested in doing and taking the steps to get it done!
How do I become a Wildlife/Forestry Conservation professional?
If keeping nature and those who enjoy it safe is your passion, deciding to get into the field is the easiest step. But, after making the decision, what do you need to do to get a paying job? Most forest and conservation workers have, at minimum, a high school diploma before they begin working. Since many jobs in the field report to the state or federal government, the application process can be long and competitive. Most successful professionals in the field have an education background that concentrated on forestry, wildlife, and different conservation practices, though this doesn't necessarily have to be a two or four year degree. A solid career program in Wildlife and Forestry Conservation will train you in wildlife management, forest habitats, and game and fish management. Entry-level forest and conservation workers generally get on-the-job training as they help more experienced workers. They do routine labor-intensive tasks, such as planting or thinning trees. When the opportunity arises, they learn from experienced technicians and foresters who do more complex tasks, such as gathering data. Workers also learn safety procedures, including how to operate equipment safely and how to maintain safety gear.
Everyday, people are hiking trails, hunting, and wandering in the "wild." Becoming a professional in Wildlife and Forestry Conservation can allow you to protect what you love most about the outdoors: the wildness of an almost untouched forest or seeing a new animal for the first time. If you've always been passionate about the forest and its inhabitants and want to make an impact in your community, consider a career in Wildlife and Forestry Conservation and start building your future.
Source
Forest and Conservation Worker | Bureau of Labor Statistics