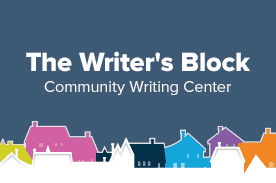 Whether you consider yourself a writer or you're just trying to write a decent research paper or essay so you pass the English class you wish you didn't have to take, you've probably struggled a bit. Even the most practiced writer struggles with creating an interesting, cohesive, and logical essay! But you're not alone — help is out there at The Writer's Block. If you're a Penn Foster student stuck on a particularly difficult essay, not sure what topic to choose, or want to make sure your grammar is on point, this is the place for you! Penn Foster's writing center, housed within the digital library, is devoted to supporting students as they develop critical thinking, reading and writing skills that are crucial to so many careers and industries. Here's what our skilled writing tutors can help you with!
The Writing Process
The biggest writing challenge most of us face is where to start. I've considered myself a "writer" since I was twelve and spent my days after school writing short stories and I even studied writing in college. As an "experienced" writer, I should know exactly what to do, right? Not really. No matter your level or writing prowess, understanding the process to follow to write an amazing essay can be a bit difficult. The writing process is made up of several stages and the experienced tutors of The Writer's Block can help you understand those a bit better. If I'm being honest, as a writer, I tend to completely avoid "prewriting" work. I'm a "go with the flow" writer, which is not necessarily a good thing! Understanding prewriting and why it's important can help you lay out the foundation of a winning essay, blog, or article!
Grammar and Mechanics
Okay, grammar can be totally boring! I 100% agree. And sometimes, the best stories and poems purposely do grammar wrong (see what I did there?) to make a point or make art or give what they're writing the right voice, the right sound. But something every single writing professor and English teacher I've had has taught me that "you need to know the rules, inside and out, before you can break them." If you're not sure of the rules, or need to get a refresher, The Writer's Block has got you covered. Grammar isn't always intuitive, so if you are an experienced writer, don't be ashamed of going there for help. No one can know everything and having a grammar expert take a look at your work can mean the difference between an A grade and a B.
The Rules of Writing
Not all rules are meant be broken, even if you learn the rules inside and out before smashing them to pieces. Things like plagiarism, citing sources, and the format your essay takes (MLA vs. APA, for example) matter when you're crafting an essay for a class. If you're not sure if something you're doing is plagiarism or don't know how to properly cite a quote you use, your grade can be seriously affected. Taking a moment to review the information in the writing center and getting a second opinion can make a big impact!
A Digital Writing Community
Writing a paper or a story — being a writer in general — can be a bit lonely! We all need someone to read our rough drafts, help us brainstorm, let us know what works and what doesn't. Besides having tutors and writers available to give you advice, The Writer's Block is a place meant to foster a community of writers. Be part of the writing community, learn and improve your work, and write a killer essay.
I could write a ten page paper (properly cited, of course!) on all the different ways the new writing center can help you out. Instead of doing that, though, I'm going to advise you take a look yourself! If you're new to the writing game, love writing or hate it, talk a "walk" around The Writer's Block and see what it can do for you!