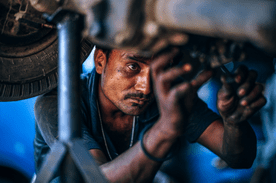 Online education is becoming more popular and more accepted as advances are made in technology. With more ways to access the internet than ever, it makes sense for busy people living their lives to complete courses online, on their schedule. After a long day at work, you don't want to immediately head to school and work more. But if you're looking to advance at work or even begin a brand new career, you may be stressing about making the choice between school and family time, worried about being late to class or losing hours at your job. You have no choice, you think, but to attend school and try to make everything work. But working full time, taking care of a family, every other thing that happens in day-to-day life doesn't leave much time—if any—to go to class. So do you give up on your dream? Keep struggling to balance it all? That's not necessary!
If you've been considering a career as an Auto Repair Technician, for example, there are online courses that can help you get started on the path toward your dream job. But, how, exactly, do you study for such a hands-on career online? It can be intimidating to start a self-paced, online course. But knowing how to take advantage of your program and how to study online can make all the difference! Check out some of these tips to get the most out of an online Auto Repair course.
Stick to a schedule.
When you don't have due dates and a set schedule to attend class, it can be tempting to skip studying or put off completing an exam. When you come home from work, exhausted after a long day, it's understandable that the last thing you'd want to do is stare at your computer or take a test, but creating a schedule and setting a goal can help you push past that. You don't even have to study every day! Just meet your weekly goal. For example, say you work 40 hours per week and you have a family you need to take care of. You may not have a lot of extra time to study, so a reasonable goal could be passing at least one exam per week. Setting a reasonable, doable goal can help you stick to your plan. If you need to take and pass one exam per week, you can study for an hour each night. That still gives you time for work, family, and fun!
Do your practical exercises.
With a course like Auto Repair Technician, you'll study diagrams and manuals; you'll learn the theory of assembling and repairing engines, among other skills. But what about practical application? This can be especially important if you have little previous experience working with cars. Taking advantage of any practical exercises included in your coursework, whether graded or not, will help you connect the theories you've read with the actual parts you'll be working on. Most trade programs will have short, simple exercises to apply what you learned. Don't miss out on a learning opportunity just because it may not be graded. It can help your career in the long run.
Ask for help.
When you're stuck and can't seem to see how the material or instructor moved from point A to point D, struggling through on your own won't always be successful. Even if you pass the exam, you maybe be missing a piece of important information. Call or email your instructors and even ask friends who may work in the same field what their thoughts are. Talking it out with someone can help you see where you went wrong and get you back on track.
Remember why you're doing your program.
There's a reason you enrolled into the online Auto Repair course. You love cars, you love working with your hands, fitting broken pieces back together to make sure the vehicle is safe. You probably love solving problems and you want a job that isn't going to become irrelevant in ten years. Most of us can't get anywhere without a working vehicle. When your car breaks down, it can derail your day and it can mean losing out on hours at work, which most of us can't afford. When there's a rattle where you think there shouldn't be or you just can't get your car to start, a call to your mechanic is the only thing that may save the day. With millions of people relying on a vehicle to make ends meet, becoming an auto mechanic can be a relatively "safe" job, even in a struggling economy. Whether you're looking for job security or simply want to do something you're passionate about, remembering the reasons behind why you're learning can help you overcome discouragement and long hours.
It may seem like you need to give up any spare time you have to attend a traditional, brick and mortar career school to learn the trade you want to pursue. But, with dedication, attention to detail, and a passion for what you're working on, you can study auto repair online, on your schedule.
To learn how other students study automotive repair online, connect to your classmates and instructors on the Penn Foster Student Community!