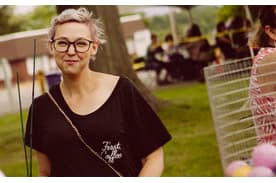 March is Women's History Month and we want to shine a light on some of the amazing Penn Foster women who inspire us daily. Today, meet Desiree S.! Desiree once worked as a Success Coach to help guide and motivate Penn Foster students to their career goals. Now, she's expanded her reach beyond one-on-ones with students to the whole world through social media! If you follow our Instagram, Twitter, Facebook, Community, and other social accounts, then you've been graced by the handiwork of Desiree. You may have catched her at a Facebook Live event, or read some of her advice right here on the Student Life Blog! Though Des strongly relates to being an introvert, Des challenges herself to step up towards new roles and responsibilities as often as she tries out a new wild haircolor (A LOT — she's green right now). She keeps a positive attitude, stays curious and engaged, and goes well beyond her shy-side comfort zone to help anyone and everyone. Are you an introvert? Learn from Des how to use it for your benefit and become a leader!
Desiree S., Content and Social Media Coordinator
Favorite Quote:
"The question isn't who is going to let me; it's who is going to stop me." - Ayn Rand
Q: Since we're celebrating Women's History Month, what powerful, strong women (historical, fictional, present-day) have inspired you?
A: It's a herculean task for me to pin down what women, past and present, inspire me. It really depends on the thing I'm currently working on, or what mood I'm in. And there are SO many awesome #girlbosses to choose from. They actually have done studies that show that, when offered more to choose from, we're incapable of making a choice. That's why it takes three years to decide what to watch on Netflix! BUT, if I had to pin it down, today, I'm feeling Ada Lovelace. Ada was the daughter of broody British poet, George, Lord Byron and was a mad awesome lady Mathematician. She's also largely considered to be the first computer programmer EVER. As an assistant to Charles Babbage, she furthered his work on his "difference machine" by positing that codes could be created within the machine for language and different characters. She was considered a weirdo for her work — what well bred lady spends time using her brain?! — but that didn't stop her.
Q: What accomplishment makes you most proud? It could be anything that has inspired you to make change happen!
A: Being able to connect with our awesome students and build relationships on the Student Community, as well as social media, makes me proud. Mostly, that's because I'm always proud of how hard everyone works to reach their goals. You guys inspire me to do better every day. Outside of that, I'm proud of the volunteer projects I've been able to help with, like fundraisers for the Women's Resource Center and volunteer activities at the Greenhouse Project and Lackawanna Valley Heritage Trail.
Q: Why is encouraging other women important to you?
A: The thought that some people are not encouraged to follow their dreams and make moves to reach their goals is distressing. We're all equal, every one of us and should be able to be confident in our support systems. Women often don't have that, especially when they want to break glass ceilings and make big changes. We can all be leaders and it shouldn't' matter if you're a man or a woman. You can do it.
Q: How did you become the leader that you are today?
A: I've always identified as an introvert. I do not like to speak up and I used to be afraid to make my voice heard (even through the internet). When I was younger, if someone I wasn't familiar with said hello to me, or even "how are you," my face would turn red and my eyes would water and I felt like I couldn't breathe. Unsurprisingly, this did not help me make many friends or be seen as a competent individual. My favorite tragicomic moment happened in 8th grade. We were in Reading class, discussing a short story. The teacher asked me a question and I didn't know how to answer. So, he started yelling, YELLING, at me and I was so startled and shocked and stressed that my face turned red and I started to cry (silently) while gasping. Not a good look. Now, before you get angry at the teacher, he was not yelling AT me but... shouting was the answer to the question and he was trying to give me a hint. Anywhoodles, after class, this guy Rocco, with whom I'd attended school since kindergarten said "You're basically a fire hydrant, aren't you?" And I think back on that when I'm afraid to put myself out there. I have often thought "I can't, I can't" when faced with public speaking or even speaking about myself informally. It wasn't until people showed me that they were confident in my work here at PF that I started trying to be more vocal, state my opinion, SPEAK. And I still struggle with it regularly. It's not something I enjoy — my brain wants to shut off completely if I have to speak in front of a group, but because I have the support of PF people, I push through as best as I can and, despite what I used to think... it does get easier every time. I am not a finished manuscript, so there are going to be a lot more struggle and strife in the story going forward because... life... but knowing I can start speaking out makes a huge difference going forward.
Q. What advice would you give to young girls who may not believe (yet!) that they can make a powerful impact in their communities and in the world as a whole?
A: Everything you do matters, whether it's good, bad, or neutral. The words you say will impact someone even if you think no one heard you. Find little ways to be kinder, to yourself and to others. You'll find that that by itself goes a long way toward making a difference.
Q: What advice would you give to our students, most of whom are women, when they're struggling to get through their coursework or think that they should quit?
A: Do not let others tear you down. Do not think less of who you are because you have struggled or feel like you can't do it. We all have those days and there is absolutely no shame in that.
Find what passions burn inside you, and let them fuel the way! Sabrina has accomplished great things and continues to make progress by doing what she loves and allowing it to lead her and empower her to put forth all she's got. With so many great feats under her belt, she has a little parting advice: "It's important to remember that although sometimes it feels like we are in this alone, we are surrounded by people willing to lend a hand if only we would reach out."