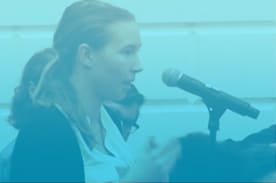 March is Women's History Month and we want to shine a light on some of the amazing Penn Foster women who inspire us daily! They are goal-driven, persistent, artistic, creative and they're leaders. Today, meet Maddie! Maddie is a woman with a plan: She likes to use facts and valuable information to come up with a fair strategy to solve problems. We are inspired by the way Maddie uses her voice as a leader to help bring change in her community and her entrepreneur skills. She recently attended an event at Harvard University called "One on One with Jaylen Brown: Athlete and Intellectual" and she let her passion inspire her to follow Jaylen's dedication to using his platform to voice social issues. She spoke up in the crowd and asked questions and furthered the conversation in support of her beliefs. She is an athlete. She is a leader. She is making moves.
Madeleine M., Associate of Strategy and Analytics at Penn Foster
Favorite Quote: "We don't quit. We don't cower. We endure and we conquer."
Q: Since we're celebrating Women's History Month, what powerful, strong women (historical, fictional, present-day) have inspired you?
A: Serena Williams (Tennis Player) - She strives fearlessly in the direction of her goals and has overcome many obstacles to get to where she currently is.
Q: What accomplishment makes you most proud? It could be anything that has inspired you to make change happen!
A: The personal accomplishment I am most proud of is graduating from university with a 4.0 cumulative GPA and winning Student Athlete of the Year NCAA Division 1 at my university. However, my biggest overall accomplishment, and what I am most proud of, was tutoring and assisting with the academic management of the Men's Football and Basketball teams while I was also a Student Athlete. My work with the teams opened my eyes to the life-changing and transformative power education has, and inspired me to pursue my current position. It also lead me to build and design a free app to empower students with busy schedules to be able to study on-the-go and succeed at whatever they put their mind to! The app is called Class Catcher and has over 2,000 users. I am driven by my passion to make an impact on people's lives and to create opportunities for upward mobility.
Q: Why is encouraging other women important to you?
A: It is essential to have a diverse body of leaders. Leaders are leaders regardless of gender, race, socioeconomic background, etc. It's essential to develop a society where there is no underlying bias in terms of who should be a leader, as this limits us as a society and a world. Through encouraging women to become leaders, the underlying bias, both within women and society, is decreased.
Q: What advice would you give to young girls who may not believe (yet!) that they can make a powerful impact in their communities and in the world as a whole?
A: Make a choice every day to be fearless in the pursuit of your goals. Every time you come across a challenge, view it has an opportunity to grow and become stronger. Every day develop your inner strength and enjoy the process! You can and will make an impact.
Q: What advice would you give to Penn Foster students?
A: Remind yourself every day why you started, who you are, and who you represent. It's essential to be conscious of what your core motivation is; this will push you through the 'character building' days!
OK, it's time for a huddle. Just like Maddie, you have goals, you're a leader, and the ball is in your court. She wants you to get out there, give it your best shot, and always remember, "Stay focused, stay tough. You've got this! Let's go!"