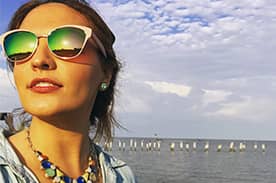 March is Women's History Month and we want to shine a light on some of the amazing Penn Foster women who inspire us daily! They are goal-driven, persistent, artistic, creative…and they're leaders. Today, meet Rose! Rose is the one who writes many of the fun and informative emails you receive in your inbox. And, if you've ever called in to the school, you may already be familiar with her… She's the "Voice of Penn Foster!"
Rose Eastman, Lifecycle Marketing Specialist
"You must do the thing you think you cannot do." — Eleanor Roosevelt
Q: Since we're celebrating Women's History Month, what powerful, strong women (historical, fictional, present-day) have inspired you?
A: This is a tough question! Of course there are the women in my family: My mother, the feistiest women I've ever met, and my older sister, Beth, a calm, steady beacon. Though there are really countless inspirational women, I consistently turn to Harriet Tubman for strength. She found her power in a powerless place, is the picture of courage, and made it her mission to help others over herself. When I'm afraid, I think of her, and nothing in my life compares to the fears she had to face. I draw strength from that.
Q: What accomplishment makes you most proud? It could be anything that has inspired you to make change happen!
A: Once upon a time, I wouldn't sing in the shower because I was afraid someone would hear me. One day, while hanging around a few friends that were recording music in their basement, I sang a couple of timid notes that started a rock band with me as the lead singer. Even though I had stage fright and didn't feel confident with my level of talent, we ended up filling popular venues and winning awards. Allowing my voice to be heard, even if I didn't think it was the best, brought me opportunities simply by putting it out there. After recording an album with my band, I was approached by the sound engineer in the recording studio to sing professionally as a studio musician. That incorporated into my work at Penn Foster when I was offered to record video voice overs and messages for our phone system. (If you call Penn Foster, I'm the voice the guides you through the menu!) Taking on that challenge opened up even more opportunities doing voiceover work for other companies, has helped lead me to be featured on a popular Gimlet Media podcast with millions of downloads, Crimetown. When I was asked if I would record music for this podcast, every bone in my body wanted to say "No, I can't do this!" I didn't really know how to record my own music well; I felt like I wasn't talented enough and would ultimately embarrass myself. I signed on to the project in spite of my fears, became the most streamed musician on the podcast soundtrack, and was asked to join Crimetown LIVE to perform in Providence, RI, and Boston, MA. With only a little over a month to prepare and a serious bout of imposter syndrome, I almost said no. What if I failed? What if I messed up royally in front of a huge audience? Could I live with that humiliation? Maybe. But, on the other hand, could I live with the regret of passing up such a cool and unique opportunity, knowing forever I didn't even try? With a knot in my stomach and a trembling voice, I agreed to do it. I had never performed live without a band behind me, and the idea of me being marooned on a stage in packed theatres far from home without anything to hide behind had me shaking in my boots. I practiced, practiced, practiced, every day after work, still believing I couldn't do it and I'd make a fool of myself. The weekend finally came and I had worried myself sick: I packed up my instruments, my husband, my pit bull, and tons of tissues and drove five hours to New England. For three nights in a row, I performed songs in front of thousands of people entirely solo; just me, a Wurlitzer piano, a bad cold, and an extremely bright spotlight. Not only did I make it through the weekend, I was praised for a job well done and was proclaimed as the star of the show by the producer. I did it, because I said yes when I wanted to say no. I'm proud every time I do something I'm afraid to do, whether I fail or succeed.
Q: How did you become the leader that you are today? Or what lead you to where you are today?
A: When I was in my mid-20s, I cared for my mother at the end of her life. I had always regretted how I handled her sickness when I was 18: I chose denial over acceptance, I chose to run instead of face my fears. When her cancer came back, I was so scared of losing her, I knew it was my last chance to do the right thing and be there for my mother and family instead of trying to protect my own emotions. No one wants to be sad. It's brave to be vulnerable and feel pain, and it was something I didn't think I was strong enough to do. I carry on knowing I was a major source of comfort for my mom as she faced her own fear of the inevitable. Seeing her courageously and gracefully pass on and being by her side through it has empowered me in every facet of my life. Life gives us opportunities and we get to choose what to do with them. I don't want to look back and regret the things I didn't do because I was afraid.
Q: What advice would you give to young girls who may not believe (yet!) that they can make a powerful impact in their communities and in the world as a whole?
A: You don't need to be the best at something, you just need to start. Be afraid, then do it anyway. Take just one step in the direction of your dreams, and it will lead to another. Each step of the way you'll surprise yourself and inspire others.
Q: What advice would you give to Penn Foster students?
A: Don't let your fears turn to regrets in the years ahead. Don't make a choice today that leaves you with "what ifs" tomorrow. Now is the time, you have the power, and you deserve to make yourself proud.
No matter who you are, or what you have to face, it's okay to be afraid. Facing our fears and the things that challenge us makes us stronger leaders! Remember, as Rose says, "Be fierce, help others, live justly, and don't forget to have a good laugh."