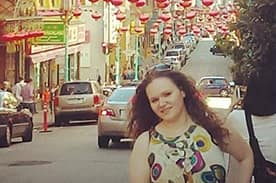 March is Women's History Month and we want to shine a light on some of the amazing Penn Foster women who inspire us daily! Today, meet Student Success Specialist, Sabrina! Sabrina leads the way for Penn Foster students every day by going above and beyond to help with their studies. (She may have even helped you!) Her ambition to help others overflows into her local community: she has founded a group that plans to encourage and help women run for public office and be advocates for issues that impact women's rights and lives. Find out where Sabrina finds her motivation to stay positive and fight for the justices she believes in, both big and small.
Sabrina H., Student Solutions Specialist
Favorite Quote:
"Silence is violence in women and poor people." Ani DiFranco
Q: Since we're celebrating Women's History Month, what powerful, strong women (historical, fictional, present-day) have inspired you?
A: When talking about amazing women, Harriet Tubman is one of the first that comes to my mind. I had a book about her when I was a little girl and to this day whenever I am afraid to do something I think of Harriet and how brave she was. Alice Paul is one of all time favorite ladies. She is the part of the reason that women won the right to vote. President Woodrow Wilson tried to have her declared insane for believing women should have the right to vote and for acting upon that belief.
Q: What accomplishment makes you most proud? It could be anything that has inspired you to make change happen!
A: I am the Founder and Chapter Leader of NEPA NOW; the area's local chapter in Northeast Pennsylvania (NEPA) for the National Organization for Women. I also was the first person in my family to graduate from college and then I went a step further, and received my Master's degree.
Q: Why is encouraging other women important to you?
A: Over half of the population is female. Having a voice in government means having a voice in the decisions made about our bodies and our lives. Too long women's voices and needs have been drowned out or down right ignored when it comes to decisions that directly affect us.
Q: How did you become the leader that you are today?
A: My parents always encouraged me to think for myself and with a strong sense of justice. I was also lucky enough that my high school believed that critical thinking skills were essential for students to learn even if that meant we questioned the teachers, too.
Q. What advice would you give to young girls who may not believe (yet!) that they can make a powerful impact in their communities and in the world as a whole?
A: Oftentimes it is a series of small acts that make up a powerful impact. Do whatever you can and whenever you can and you will be surprised at what a difference you have made.
Q: What advice would you give to our students, most of whom are women, when they're struggling to get through their coursework or think that they should quit?
A: Think of your long term goals and the example you are setting for others. Maybe you have children, nieces, grandchildren or siblings who you are setting the example of what is possible for them.
Find what passions burn inside you, and let them fuel the way! Sabrina has accomplished great things and continues to make progress by doing what she loves and allowing it to lead her and empower her to put forth all she's got. With so many great feats under her belt, she has a little parting advice: "It's important to remember that although sometimes it feels like we are in this alone, we are surrounded by people willing to lend a hand if only we would reach out."