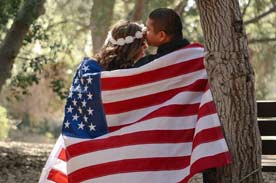 At Penn Foster, we understand that being married to a member of the military means you have a strong work ethic, lots of compassion, and unbreakable motivation. However, due to a commitment to the military, you require some flexibility to achieve your personal goals. Not always having stability in where you live and what your schedule looks like can make getting the education you crave a major challenge. With the kind of lifestyle that could change at a moment's notice, we aim to provide a flexible education so your dreams can stand firm. Here are a few MyCAA students who have made their education work to achieve their dreams.
How to start a career working with animals
Many military spouses form a strong bond with animals. While their spouse is away on active duty, a furry friend is often a reliable cuddle buddy. Being a military spouse requires a lot of patience and love. Those qualities can make a big impact in animal care fields. Just look at Sara Laure, a veterinary technician graduate. Sara is a military spouse who was adamant about building her career helping animals.
"The MyCAA benefits made it extremely affordable to pursue my passion of working with animals and doing something that I will enjoy for the rest of my life. I have volunteered/worked in an animal-related field since I was about 13 and the Veterinary Technology Program through Penn Foster helped fine tune my skills and teach me so much more. Once I graduated and passed the VTNE, I was given a raise at my place of employment. They make getting the career that you have always dreamed about affordable and let you do it on your own time. Penn Foster has made it possible for me to get the degree that I needed to do what I love. It is affordable and there is always someone there to help. As with any school there are ups and downs but if you have the drive to get to the finish line then Penn Foster is the school for you."
Shayna Wilt, who is a MyCAA student in the Veterinary Technician Degree, decided she wanted to enroll after getting a job with a local vet in the town she moved to.
"I'm proud of the fact I took the steps to get back into school. Being a parent to 2 children, with sports, working a job and with a husband that deploys often I kept putting it aside. I finally said I can do this and with the encouragement from family and friends I made the commitment to do it."
Marrying military means making moves! From her Navy husband to her love of animals, MyCAA student Sabrina Shoumake follows the ones she loves.
"Not only am I a proud Navy wife, but I am now a proud college student. I chose Penn Foster because it is online and self-paced. Being in the military means you're moving around all the time. I personally moved twice in the past year because of the Navy. And being able to take your school with wherever you go really made it possible for me to go to school. I am enrolled in the veterinary technician program because I love animals and taking care of them. If I could say anything to try and encourage other military spouses it would be do something for yourself. You stand at your husband's/wife's side supporting them, making them stronger, and helping them make their dreams come true which is amazing. Now you deserve to follow your dreams."
Want to learn how to work with animals?
As you are very well know, change isn't easy, but often worth it. MyCAA student, Angelica Wilhelm says it perfectly:
"My encouragement to my fellow military spouses would be to never give up on your own personal goals in life and that we are strong enough to make it through all those hardships, so I know we are all strong enough and more than capable of getting through the education we strive for. Even though it seems exceptionally hard to get that degree or to continue go strong and hard."
Whether you're interested in a Veterinary Technology Program, becoming a vet tech, or working with animals in another capacity, Penn Foster's online Veterinary Academy offers flexible, supported online training to students around the world.
Named a 2021-22 Gold Military Friendly® School by Victory Media, Penn Foster supports the men and women who serve our country. With Military, MyCAA, and Veteran benefits, we aim to make Penn Foster the military-friendly school that students in the armed forces choose to build better futures through our self-paced, flexible programs.
For more information about using your military benefits, reach out to our expert Admissions Team at 1-888-427-6500 today!