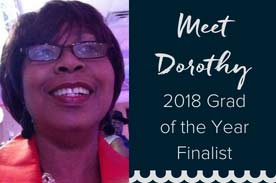 This year, we've had an inspiring group of graduates submit their stories to become the 2018 Graduate of the Year. Each finalist had an impressive application and used their knowledge, education, and passion to help their communities and reach their goals. Dorothy Saah, a graduate of Penn Foster College's Early Childhood Education degree program, stood out because of her dedication to bringing education and knowledge to children everywhere. Currently, Dorothy is working on helping children in her homeland of Ghana. Here's her story:
"After graduation from Penn Foster with an Early Childhood Education Associate Degree, I've started writing stories and workbooks for children, from infants up to 8 years old, because of the solid background I received in my own education. I'm actually about to publish my first batch of books! Back home in Ghana, I've started a book club and various after school programs for underprivileged children to augment and supplement the woefully inadequate education many receive.
Here in Houston, Texas, I volunteer and work with children with behavioral challenges and special needs, which has made what I've studied at Penn Foster come alive for me. I'm particularly excited to help similar children when I finally return to Ghana, as such care is almost non-existent there. I want these children to get a solid foundation to build on, so that they can continue to college and better jobs in the future!"
Dorothy continues to work tirelessly on improving the lives of her countrymen in Ghana through education and information. Her most recent workbooks will be released in June. We can't wait to see the impact she'll have on the world going forward. We couldn't be more #pfproud.