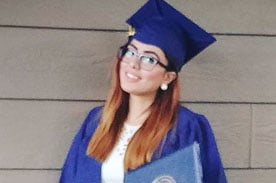 This year, we've had an inspiring group of graduates submit their stories to become the 2018 Graduate of the Year. Each finalist had an impressive application and used their knowledge, education, and passion to help their communities and reach their goals. Lynda Sanchez stood out from the submissions we received because of her dedication to changing the lives of others in her community and through her education goals. Here's her story:
"I graduated from Penn Foster High School in June of 2017. I was a teen mom and previously felt that I would never be able to offer my child a good future. I used to struggle with depression until I realized that the only one setting boundaries and limits for what I could accomplish was myself. Thanks to the flexibility that comes with doing online courses with Penn Foster, I could work at my own pace and earn my high school diploma.
Since graduating, I've started pursuing a Bachelor's Degree in the Psychology of Substance Abuse. My GPA is above average and my ultimate goal is to earn a PhD in Psychology in order to work with teens to prevent addiction and substance abuse. Right now, I'm also in the process of getting a Chemical Dependency Counselor Trainee Permit in order to start working in the field.
Outside of my educational goals, I've also started a small local organization through Facebook that helps the homeless in my area. I gathered twelve people together who share my interests in helping those in need. It was only supposed to be something for Christmas but, seeing how many in the community were in need, we began putting things together every two months.
Graduating and earning my high school diploma encouraged me to continue striving to reach my goals when I originally thought I couldn't."
Lynda continues to push forward for herself, her three children, and those in her community. She hopes to one day also write and publish books regarding chemical dependency that can have a positive impact on the world. We're so proud of everything she hopes to accomplish and can't wait to see what changes she makes in the world.
Congratulations, Lynda!