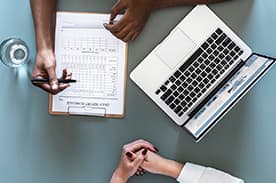 It's no secret: the medical field is growing and in need of more skilled workers. This is a great advantage for people interested in work that helps others with a bright career outlook. Medical assistants are needed in a variety of healthcare settings, such as hospitals, physician's practices, nursing homes, clinics, chiropractic offices, laboratories, and more. With 18% more medical assistant jobs projected until 2030 by the Bureau of Labor Statistics, many are looking to hop on the Allied Health train and establish themselves in the field. Interested? Let's dive into what medical assistants do from day-to-day and see what types of people do best in this line of work.
What do medical assistants do?
Did you know that medical assistants wear many hats? Medical assistants fill two roles in a medical workplace environment, both as a healthcare profession and as an administrator. The two different sides of this medical coin mean the best person fit for the position is one who is friendly, warm, and trustworthy, but can also flip over to a more clinical, focused, and detail-oriented mindset in the matter of a moment.
Administrative roles of medical assistants
Get ready to help keep the office running! Medical assistants cover a range of duties, such as greeting patients, answering phones, making, cancelling, and rescheduling appointments, working as a liaison between insurance companies, imaging centers, and laboratories, ordering medical supplies and keeping track of inventory, updating patient charts, completing medical paperwork, keeping track of billing and bookkeeping, and more. This aspect of the job alone can help guarantee a boredom-free work environment with plenty of tasks to stay on top of.
Clinical roles of medical assistants
Medical assistants work alongside doctors, physician's assistants, and various technicians to help care for the health of others. Changing wound dressings, removing sutures, taking blood, giving injections, explaining medical procedures to patients and preparing them for exams, keeping medical equipment sterilized, performing electrocardiograms, diagnostic tests, and lab work, are all part of the clinical day-to-day tasks.
How much does a medical assistant make
Besides being a rewarding career that allows you to help others and make a difference, becoming a medical assistant can offer a decent starting salary! Depending on where you work, where you live, and your experience, the average starting salary for a medical assistant is $35,850 according to the Bureau of Labor Statistics. The highest-paid medical assistants worked in outpatient care centers, such as clinics and urgent cares, earning an average of $38,860.
Additionally, becoming certified can not only help you stand out when applying for jobs, it can increase your earning potential.
Prepare to become a medical assistant on your schedule
Becoming a medical assistant requires education and certification. With Penn Foster's Medical Assistant Training Program, you can take the first steps toward becoming a skilled medical assistant on your schedule, from home. Throughout your courses, you'll cover the clinical and administrative essentials needed to be effective in the role, as well as apply what you learned in a hands-on externship. You'll also prepare and sit for industry certification such as the Certified Clinical Medical Assistant (CCMA) certification offered by the National Healthcareer Association (NHA), the cost of which is covered by your tuition!
If you're thinking this field may be right for you, reach out to us at 1-800-275-4410 for more details or enroll online today.