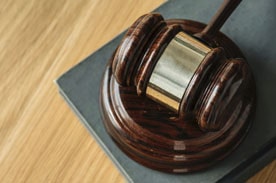 If you're detail-oriented, organized, and passionate about the law, becoming a paralegal can offer you a rewarding and exciting career path. As a paralegal, you'll work closely with and support lawyers by maintaining and organizing files, conducting legal research pertaining to active cases, and drafting important documents. But how do you become a paralegal? What education do you need? And, even more importantly, what exactly can you do as a trained paralegal? Here's everything you need to know.
What careers are available with a paralegal degree?
Most often, paralegals find jobs working in law firms. They support lawyers and help them with clients, including performing clerical work and research. But a local law firm isn't the only place you can work when you have a paralegal degree! Many trained paralegals can build successful careers in other fields, including
Business. orporations large and small often require quite a bit of legal paperwork to be completed on a regular basis. That means there's usually a need for a strong in-house legal team and corporate paralegals. Most often, corporate paralegals are more involved in business law, including incorporation, product licensing, tax law, and human resources law. They'll draft and review legal paperwork for a number of processes, create legal documents and waivers as necessary, and more to ensure that the business always meets the laws and regulations required of it.
Real estate. Paralegals can also find rewarding careers working in real estate. Real estate companies often need skilled paralegals to prepare and draft sales agreements, prepare files for property closings, and preparation of sellers' documentation. In this industry, paralegals should be familiar with state and federal regulations, fair housing law, and drafting legal contracts.
Courts. Paralegals aren't just needed in law offices and businesses. The court system can also be a great place for skilled paralegals to begin building their careers. Paralegals who work in the judicial system can work in a variety of roles, including assisting judges with legal research pertaining to upcoming and current court cases. Besides working with judges, paralegals can also find work assisting public defenders or district attorneys. Those working in this sector of the law need to have a strong knowledge of criminal and procedural law to assist the defenders and attorneys with preparing legal correspondence, summonses, motions, and more.
Government. The government is large and each department within it has some need for paralegals. This career path offers plenty of opportunities to focus on different aspects of the law and can offer positions at the local, state, and federal level. Paralegals working for the government may need to have specialized knowledge for the agency they work for, from an understanding of fair housing law to the regulations surrounding the creation of new policies.
How much does a paralegal make?
The average salary for paralegals can vary based on where they live, where they work, and their level of experience. However, as of May 2020, the median salary for paralegals was $52,920 according to the Bureau of Labor Statistics. The highest-paid paralegals worked for the federal government, earning an average salary of $69,490, while those working in finance and insurance earned $66,390. The lowest-paid paralegals held jobs in state government and earned an average of $48,070 per year.
What education is needed to become a paralegal?
Being a successful paralegal involves organizational skills, a desire to learn the workings of the legal system, research, and attention to detail. As a paralegal you'll find yourself working closely with lawyers as you help during trials, conducting research and writing reports for trials, getting formal statements, and drafting documents.
That means you'll complete courses such as:
Legal Terminology. You'll learn common legal words and phrases and critical thinking skills that will improve your own arguments as well as the ability to evaluate other's arguments.
Investigations and Interviews. Since paralegals often spend time talking with clients or witnesses, you'll need to learn how to effectively interview people and conduct legal investigations.
Legal Research and Writing. In this course you'll learn legal writing and the tools that may be used in legal research.
Through Penn Foster's accredited, online Paralegal Associate Degree, you'll build the foundational skills needed to take the next steps toward starting a career in the field. After you graduate, you'll also qualify to sit for the National Association of Legal Assistants (NALA) Certified Paralegal examination, an industry-recognized credential that can help your resume stand out when applying for jobs.
Start your journey to a career as a paralegal
If you're looking for a flexible, online degree program that can help you prepare for a new career on your schedule, from home, Penn Foster could be the perfect fit for you!
To find out more about how Penn Foster can help you prepare for the career you want or to learn more about becoming a paralegal, call to speak with our Admissions team at 1.888.427.6500 today!