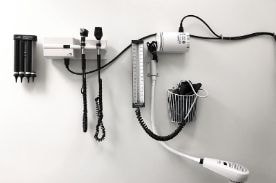 Where do medical assistants work?
As a trained medical assistant, you'll have the opportunity to work in a few different environments in the medical field. From a physician's private practice to urgent care clinics, skilled medical assistants are needed to help intake patients, record patient histories, take vital signs, and more. If you're interested in beginning a rewarding career in the healthcare field, becoming a certified or registered medical assistant could be the job for you! Here's what you need to know about the different places you can find work and what you'll do there.
Working as a medical assistant in a private practice.
As a medical assistant working for a physician or a group of physicians, you'll find yourself on a fairly regular schedule depending on the practices' hours of operation. Most offices tend to open at 8 AM and generally have Monday through Friday hours, though some may have limited weekend hours also. You'll often begin your day by arriving a bit earlier than the first appointment, making sure to review the daily patient schedule, listen and address any voicemails from patients, organize charts, and more.
Once the first patients arrive, your day gets busier checking in appointments, taking vitals, and updating patient histories and records before they see the doctor. Depending on the size of the office you work for, you'll have other medical assistants, administrative assistants, and other healthcare professionals working together as a team to provide quality care to patients.
While the average salary can depend on where you work, what state you live in, and your education and experience, the median annual pay for a medical assistant working in a physician's office in 2018 was $33,650.
Working as a medical assistant at an urgent care or clinic.
Besides working for a small or large private practice, trained medical assistants can also find roles at urgent cares and clinics. The main difference between these facilities is that most clinics and urgent cares don't have regular patients and can see a variety of illnesses and health problems each day.
Assistants in high-volume urgent cares or medical clinics will perform the same regular duties as those that work in a family practice, from scheduling appointments to taking and recording patient vital signs. However, the working environment is often more fast-paced than a traditional office, with many urgent care centers seeing upwards of 342 patients each week.
Though working in an urgent care facility can be more demanding when it comes to the number of patients and work that must be done, the average salary a medical assistant can expect to make is similar to that of assistants working in a private practice. Similarly, the average yearly pay can vary based on the urgent care you work for, the state you live in, and your experience.
Working as a medical assistant in hospitals and outpatient care centers.
Hospitals and outpatient care centers need medical assistants just like smaller practices and clinics do. Work in these environments can be fast-paced, with a variable work schedule that can include overnight shifts, weekend shifts, and holiday hours.
As a medical assistant in a hospital setting, your daily tasks could depend on what floor you work on, what patients are in the hospital, and what needs to be done. You'll use your training and skills to monitor patient vital signs, assist nurses, doctors, and nursing assistants in caring for patients, and – depending on the regulations and education required by your state – drawing blood for lab work.
With more responsibility that may require further training, medical assistants working in larger facilities and hospitals could potentially earn more than those who take roles in small practices and clinics. As of May 2018, the average annual salary for assistants working in hospitals is $34,980.
Why become a certified or registered medical assistant.
The healthcare industry offers many different paths toward a rewarding career. And with demand for skilled medical assistants expected to grow by 23% over the next decade, it's a great time to start carving out a career path in the field. With Penn Foster's online Medical Assistant Diploma Program, you can gain the foundational knowledge and skills to prepare to sit for industry-standard exams like the Certified Clinical Medical Assistant certification offered through the National Healthcareer Association (NHA). To start toward a new career, enroll today or speak with an Admissions Specialist to learn more at 1-888-427-6500.