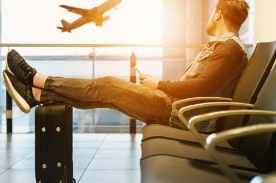 If you're looking for a fun career that allows you to work directly with clients and has work from home opportunities, becoming a travel agent could be the perfect job for you! As a travel agent, you'll help clients book their perfect vacations, from travel to hotel accommodation – and even plan itineraries so they see all of the best sites wherever they go. Here's what you should know about working in travel and tourism, and how to get started in the field!
3 reasons to become a travel agent
Becoming a travel agent sounds interesting, but doesn't everyone book their own travel online through sites like Kayak and Travelocity these days? Not necessarily! While there is a lot of information and different discounts available on the internet, there are also a lot of things those websites don't have access to. That includes personal recommendations, insight into different destinations, and access to reservation systems and discounts available only to those in the industry. Because of this, there's plenty of opportunity to have a rewarding career or even start your own business in the field. Besides that, other reasons to become a travel agent include:
1. You can work anywhere, anytime.
With the advances in technology, it's easier than ever for you to work from wherever you are. While starting out in the industry may have you tied to a desk in an office for a bit, travel agents have the option to work from home and have a more flexible schedule. And, especially now, more jobs than ever are remote, so you'll have many more opportunities to find a work-from-home job! You can even start your own small business as a travel agent if you're interested in being more independent.
2. You're helping families make memories.
Family vacations are memories that most people look back on fondly and as a travel agent, you're helping build and plan a trip that will be talked about for years. Whether you're helping plan a trip to Disney or you're scheduling a cruise for your clients, you'll be able to work with them directly to ensure they have the best – and most budget-friendly – vacation!
3. There's never a dull moment.
There's variety in each workday as a travel agent, so no dull moments to cause you to lose focus. Whether you're meeting with clients one day, or talking to hotel or resort representatives, your work can be varied and fun. Depending on whether or not you work for a travel agency or start your own, you may also have creative tasks to work on like marketing your business online and in print, researching new locations and trip deals, and more.
What does a travel agent do?
Travel agents do more than just book flights and make hotel reservations, though those tasks are often an important part of the job. Typically, as an agent, you'd work directly with clients to determine what they're looking for in their experience, figure out their travel preferences, and where they can go on their budget. You'll also provide information on different travel options and tour packages, as well as giving advice on different local customs should they be traveling outside of the country.
From there, you'd use industry reservation systems that allow you to access travel information from suppliers such as airlines or hotels and book the necessary accommodation. Typical duties for a travel agent include
Finding fare and schedule information.
Calculating the total travel costs.
Booking reservations for travel, hotels, rental cars, special events, and tours.
Describing trips to clients.
Covering what paperwork and vaccinations, if any, a client needs for an international trip, such as a passport or a visa.
Making alternative travel arrangements if changes come up before or during a trip.
Depending on the agency you work for, you may also visit destinations to get firsthand experience you can use to sell trips to clients.
Besides completing your daily job duties, being a great travel agent requires a few key skills, plus an interest in discovering more about the world. A successful travel agent is
Adventurous. Even if you don't have the opportunity to explore every exotic and interesting place in the world, having a sense of adventure can help you connect with your clients. Being excited about the wider world and discovering what's out there can also help you suggest trips to clients who aren't sure where they want to explore.
Detail oriented. There are so many little details that go into planning the perfect vacation, including behind the scenes paperwork. Keeping information in order and remembering important details is crucial to being a great travel agent.
A people person. Travel agents work closely with clients and need to be able to comfortably speak with different people. Being talkative and using active listening skills, as well as other soft skills, can help you connect with and sell travel options to your customers.
Become a travel agent online with Penn Foster
Whether you're looking for a flexible second job, you want a career that makes you excited to get to work each day, or a job that allows you to work from home, becoming a travel agent could be everything you're looking for. With Penn Foster's online Travel and Tourism program, you can learn the ins and outs of the industry from home, around your schedule! Our online travel agent specialist training covers the essentials in classes like North American Air Travel, CRS Training: Apollo® or Sabre®, and Tours and Vacation Packages. Even better, as part of your program you'll prepare and sit for the nationally recognized Travel Agent Proficiency (TAP) certification exam developed by the American Society of Travel Agents (ASTA) and the Travel Institute. And, after graduation, you'll receive a voucher from Penn Foster to sign up for the Destination Specialist training from TAP to expand your knowledge and travel expertise! Want to know more about getting started? Reach out to our Admissions Specialists today at 1.888.427.6500!