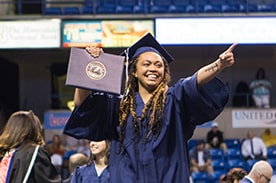 You did it!
You've worked hard, fit your studies into your already busy schedule, and now you're almost at the finish line - graduation! Whether you have a couple lessons to finish or you've just taken your last exam, it's time to celebrate your accomplishments! Earning your diploma or degree is a big deal, no matter where you are in life, and you deserve to share how proud you are. If you're attending the 2019 Penn Foster Graduation Ceremony or are waiting til 2020's event, you can mark this big moment in your life a few different ways! Here's how you can celebrate your success wherever you are.
Celebrate yourself.
Plan a party! No matter how old you are when you graduate, you've accomplished something big and that's amazing. Though online school is self-paced and flexible, you still had to push yourself through your lessons and exams. Staying motivated on your own can be a lot of work but you DID IT. Throw yourself a small party with friends and family who helped you along the way.

Treat yourself. Taking the next step toward reaching your goals is no small thing. Whether you're preparing for a job, updating your resume and checking out interview tips, or you're taking a break before jumping back into school, treat yourself to something to celebrate the next chapter in your life.

Share your success on social media. You can't stop smiling, you're so happy to have completed your program. Hard work has paid off and it's time to share that success with the world. Take a selfie with your diploma or certificate and share on Facebook, Instagram, and Twitter with the hashtag #PFGrad2019. Don't forget to say a little bit about how you got to where you are today so that you may inspire others! Not sure how to best post about your accomplishments? Check out the guide below.
How to share your success on social media.
You did something big and you're proud of the work you put in, so you want to make a splash on social media. Want to make a big deal of your success? Here are a few tips on creating a celebration post that will get you all the "likes"!
Take an amazing picture. Don't let your diploma or your happiness be overshadowed by bad lighting! Check out this video that walks you through taking the best graduation picture ever.

Use relevant hashtags to get that amazing grad picture out there. Share your success with friends, family, and fellow students by using our Penn Foster hashtags on Instagram. Create your celebratory post, then in the caption use #PFgrad2019 and tag @pennfoster.

Post that picture on our Facebook page! After you've taken a photo or selfie you're happy with, share that on Penn Foster's Facebook. Not only will you inspire other students, you could get a shout out on our page!

Don't forget to follow us. If you haven't yet, follow us on Facebook, Instagram, and Twitter so you can see your fellow graduates celebrate their success, too, and get great advice on what to do next with your career or education. And you can watch the 2019 Graduation Ceremony LIVE on Facebook on June 1st at 2PM EDT. That's a can't-miss moment!
Keep learning, keep moving forward, and keep doing you.
Your Penn Foster program helped prepare you to take the next step in your journey after graduation, whether that's furthering your education or finding your dream job. The sky's the limit when it comes to what you can accomplish. Want to share your story and motivate others to push toward graduation? Consider being a guest on our Alumni Spotlight Podcast. Tell us all about your education adventure here.
And remember, whether you're celebrating graduation at home this year or coming to the ceremony in Pennsylvania on June 1st, we're #PFProud of you. You've made it.