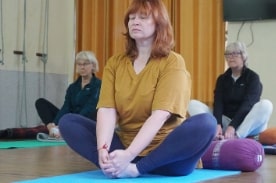 A physical therapy aide is someone who supports the physical therapists and therapist assistants to help patients recovering from injuries and illnesses regain movement and manage pain. If you know you want to work in a field that allows you to make a difference, becoming a physical therapy aide can offer a stable career that makes a positive impact in your community. Your drive to help others fuels your career goals, so an entry-level role in a healthcare job, like physical therapy, can help you feel fulfilled. Here's what you should know about the job, the training, and the impact you can make in the role.
What is the job description for a physical therapy aide?
A physical therapy aide ensures that the physical therapist and patients have everything they need for appointments, from setting up the necessary equipment to helping patients move to and from the therapy area. As an aide, you'd also be tasked with essential clerical tasks for the office such as scheduling appointments, ordering supplies, and filling out insurance paperwork.
To be an effective physical therapy aide, you should have a few important qualities such as
Interpersonal skills. Working with patients, physical therapists, and therapist assistants every day requires someone who is patient, courteous, and friendly. Many patients and their families are trying to overcome a medical hurdle or are working toward a better quality of life through physical therapy. As the first face they'll see in the office and the first voice they'll hear on the phone, how you present yourself makes a difference.

Compassion. A physical therapy aide should enjoy helping people. Having empathy is essential to being successful in the role, as you'll be dealing with people who are in pain on a regular basis. Being able to take rudeness, which may be a result of the patient's pain, in stride and still offer quality care is important.

Physical stamina. Though you'll often be acting as an aide to therapists and therapist assistants, you'll frequently be on your feet and moving. You may also need strength in order to help patients move to and from the therapy area.
Most physical therapist aides work full-time and, depending on their workplace, may work nights and weekends. Aides usually find work in physical therapy and occupational therapy offices, as well as hospitals and nursing care facilities.
Do you need a license to become a physical therapy aide?
Unlike some careers in the healthcare industry, physical therapy aides are one of the few positions that don't require certification or licensing to work in the field. However, states can and often do have different requirements for working in any healthcare role from what education they accept, to what exams, if any, you need to pass to work in the field. Before enrolling in any physical therapy aide program, check what requirements your state may have in place. You can do so by contacting your state licensing/regulation board.
Though you most likely will not be required to pass any exams or fill out applications for licensing as a physical therapy aide, earning a career diploma in the industry can help you prepare to confidently apply for open positions.
How long does it take to become a physical therapy aide?
Becoming a physical therapy aide can involve both formal education and on-the-job training. Most physical therapy aides have, at a minimum, a high school diploma and are trained by more experienced coworkers or therapists in the office. Physical therapy aide training courses can help you take the next steps toward preparing for a rewarding career and help you stand out from other applicants. The length of time it takes to complete a program at a traditional career school can vary, but with Penn Foster's Physical Therapy Aide Career Diploma, you can finish your academic training in as little as a few months.
Can you get a physical therapy degree online?
When considering getting a physical therapy degree online, it's important to understand the difference between the amount of training required to be a physical therapist versus a physical therapy aide.
Becoming a physical therapist requires years of dedication to education, starting with a bachelor's degree before moving to earn your doctorate in the field, as well as passing state boards and more. Becoming a physical therapy aide, however, requires less training to prepare for an entry-level career. That being the case, you can enroll and complete a self-paced, online Physical Therapy Aide Career Diploma Program with Penn Foster Career School to gain the foundational knowledge that can help you prepare to find success in the role.
Why become a physical therapy aide with Penn Foster?
With Penn Foster's flexible, online training, you can set your pace and work on your classes when it works for you. You'll cover foundational skills like medical terminology, body system terminology, and more — all from home. Not sure if the Physical Therapy Aide program is for you? Reach out to an Admissions Specialist at 1-888-427-6500 to find the right program for you!