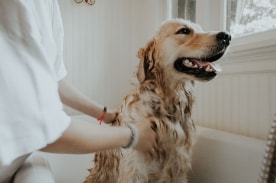 Beginning a career as a dog or pet groomer usually starts with graduating high school. While many states don't require formal education in grooming to start working, grooming school can help you gain the foundational skills that can prepare you for the everyday on-the-job tasks. Education in the field can also give your resume a boost and help you stand out to employers and clients when applying for open pet grooming positions. Here's what you need to know about dog grooming school before getting started.
What does pet grooming consist of?
Dog and pet grooming consists of working with dogs, cats, and other animals to bathe, shampoo, trim or shape fur, and clip nails. Generally, their goal is to make sure the animal looks and feels good, and that the pet's human is happy with the job. But becoming a pet groomer involves more than knowing how to give your fluffy best friends a bath and trim their nails without getting scratched up. While many employers do offer on-the-job training once you're hired, getting to that point can take some background or education to help you stand out among other applicants and feel confident in your work from day one.
With our online Pet Grooming Certificate, you'll strengthen your knowledge of human's best friends and gain skills that can prepare you to tackle whatever tangled knot comes your way. Your courses include
Introduction to Dogs and Cats. You'll cover the different types and personalities of dogs and cats, as well as basic anatomy and animal healthcare.

Pre-grooming Procedures. You don't just jump right in with the shears or nail clippers when you're a pet groomer. You'll learn about the different equipment and tools you'll use, combing and brushing techniques, and more.

Cat Grooming. Dogs aren't the only companion animals that need grooming. While cats generally do take care of their own grooming needs, long-haired cats often get matted fur and other issues that are best resolved by someone with experience. And who doesn't love a spa day?
Does dog grooming require a license?
Grooming doesn't require you to earn a license to work in the field if you're working for a company or pet boutique. Some states do require groomers who own their own business to have a business license or facility license, but these requirements can vary from state to state.
Certification, also, isn't necessary to work as a groomer, but it's always a good addition to your resume. Completing the National Dog Groomer's Association of America (NDGAA) exam allows you to be recognized as a National Certified Master Groomer. Besides having an official title, certification can sharpen your resume, helping you be a more in-demand job candidate as well as increasing your earning potential.
How much does pet grooming school cost?
The price of going back to school shouldn't hold you back from pursuing your dream job. If you're passionate about working with animals, have developed people skills and customer service skills, and want to make dogs — and the occasional cat — feel their best, becoming a groomer could be the perfect job for you. And tuition costs shouldn't be a roadblock to getting there. With Penn Foster's Pet Grooming Certificate, you have the option of flexible monthly payments that work for you while you're working on your future. Plus, you can do it all on your own schedule. For more information about the program, help getting enrolled, or your tuition options, reach out to an Admissions Specialist today at 1-888-427-6500.