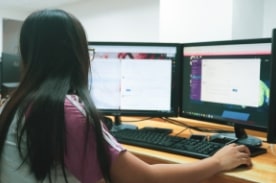 Are you someone who is organized and detail-oriented? Do you pride yourself on your ability to make decisions and prioritize tasks on your daily to-do list? If you're interested in a career that will allow you to help a business run smoothly while helping you learn more business-related tasks that can strengthen your resume, an administrative assistant position could be the job for you. Skilled administrative assistants play a vital role in how a business operates day-to-day. Here's what to know about the role.
What are the qualities of a good administrative assistant?
To be an effective administrative assistant, it helps to start out with a few strong qualities. Good administrative assistants are usually people who have sharp decision-making skills, the ability to prioritize tasks by importance, and love to untangle chaos. While many skills can be learned on the job, a few will be necessary to get your foot in the door as an administrative assistant. You should have a foundational understanding of key skills, such as:
Computer applications. Having at least a basic understanding of word processors such as Microsoft Word, as well as proficiency in Microsoft Excel and PowerPoint is often necessary to be a competent assistant. You'll be responsible for writing letters, putting together memos, presentations, and spreadsheets for your employer, so knowing how to use these tools is a must.

Workplace communication skills. You're not born with strong communication skills; you learn it over time. While you may have experience in the workforce, strengthening your workplace communication is vital in this role as you will have to work closely with everyone in the office These skills include being able to work with others, communicate ideas and thoughts effectively, and solve problems.

Administrative office procedures. You're already an organized person, but some office skills require specific knowledge, such as planning travel, scheduling meetings, or running events for your employer.
If you don't currently have these skills, that doesn't mean you can't learn them. Online administrative assistant training can give you the basics that can help you build a career in the field.
What are the main duties of an administrative assistant?
Administrative assistants perform different tasks that are geared toward helping the business run more efficiently, including routine clerical duties. Assistants most often are responsible for these tasks on a day-to-day basis:
Answer phones
Schedule appointments
Arrange staff meetings
Handle mail, faxes, and some emails
Maintain filing systems
Prepare company memos or invoices
Depending on the type of administrative assistant you are, you may be responsible for more industry-specific tasks, such as legal secretaries who require knowledge of legal procedures and terminology.
How much does an administrative assistant make per year?
The salary for a trained administrative assistant can depend on the kind of business you work for, the state you live in, and your experience. The average annual pay for an assistant in 2018 was $38,880. Most administrative assistants will work full time in business, religious, professional, and government environments.
What skills should you include on your resume to become an administrative assistant?
Being an administrative assistant can help you get your foot in the door at a variety of businesses, but how do you stand out to hiring managers when submitting your resume? Listing skills that are relevant to the job is important. Thinking about your past positions. If you haven't been an administrative assistant in the past, what skills did you use in your previous positions that can be applied to your new career? Things like customer service, communication, and technical skills - using email, computers, and more — can help you show that you have the building blocks to be a strong new hire. Even further, being able to further your education and add an administrative assistant career diploma to your resume can pique an employer's interest.
Take the first steps toward a career you enjoy with Penn Foster.
If you want to take the first step toward a career that can allow you to use your skills in a variety of environments, becoming an administrative assistant could be the perfect role for you. Start building the foundation of a new career online, around your schedule, with Penn Foster's online Administrative Assistant program. Chat with an Admissions Specialist today to get started at 1-888-427-6500!