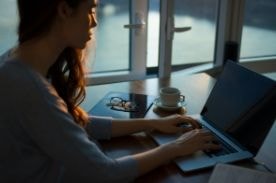 Why a balanced work and study schedule is important
Having a balanced work and study schedule when you're working from home is important to ensuring you don't drop the ball for either. A balanced schedule includes working hours, study time, and free time. By creating a solid routine and sticking to it, you can make the most of the hours in the day and excel at whatever you set your mind to!
How to balance work and studying at home
Normally, it's possible to have a very clear separation between your work life and your education. After all, you'd go to your job then come home and study there, or somewhere else with good wifi. But when you're going to school online and working remotely, the lines between working hours and studying time can blur. It can also take a toll on your motivation. Here's how to fix it!
Creating a balanced schedule can help you get into a routine and stay focused on the task at hand. Start by figuring out what your day looks like. If your job has a set schedule, like a 9 to 5 work day, you know that Monday through Friday you'll be focusing on your work tasks during that time. If you have a daily planner or use a planner app, block off that time each day so you can visualize what your free time looks like.
From there, consider your study goals. When do you want to complete your program? How many exams do you have to take per week to meet that goal? Then, decide how much time you want to dedicate to studying and taking exams. Since Penn Foster's online courses, from high school to college degrees, are all self-paced, you can determine what school schedule best fits your needs.
It's also important to schedule in some free time for yourself. Having time to relax or focus on your interests outside of the demands of work and school is vital to staying refreshed and ready to take on your work. While you may want to use every available hour to finish your program, take at least one day to have fun, spend time with your family, or indulge in self-care.
Connect with Penn Foster to stay motivated.
If balancing work, life, and school is sometimes overwhelming—especially when you're unable to go anywhere—you're not alone! Our instructors and student advocates are here to help you navigate your studies through your Student Portal, email, or over the phone. Even better, you can connect with other Penn Foster students and alumni in the Student Community and stay up to date with school news on our Facebook, Twitter, and Instagram pages. We're all in this together!