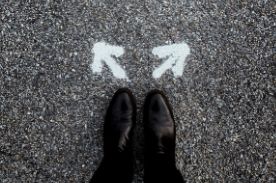 What's the difference between online program types?
When you're pursuing an education that can help you prepare to take the next steps toward building a new career or advancing in your current job, ensuring you complete the right program for your goals is a must. But with various types of certificates, diplomas, and degrees available, figuring out which one is right for you can be time consuming and confusing. It doesn't have to be. Here's what you should know about the differences between career certificates, diplomas, and undergraduate certificates.
What is a career certificate?
Career certificates are shorter programs that often are much quicker to complete than a degree or diploma. Usually, these certificates are geared toward helping students prepare to pick up the skills and knowledge they may need for a specific role or job.
What is a career diploma?
Career diplomas, which offer more in-depth study and information, are earned through completing a vocational or technical training program. These programs cover the specific education and training for particular jobs and industries, and can also sometimes help you prepare to sit for industry certification exams.
What is an undergraduate certificate?
Undergraduate certificates are short college programs, usually between 15 and 18 credits, which can help students prepare to tackle a full associate or bachelor's degree in the future, or to gain entry-level knowledge to advance a career.
Which type of program is right for my goals?
While each type of program – certificate and diploma – can be an asset on your resume, not all of them may be right for what you're hoping to do. So how can you decide which path is the best next step toward reaching your education and career goals?
Think of what you want to accomplish. If you've been working in an industry for awhile and just need to add new skills to your resume or refresh the skills you already have, a shorter, focused program might be your best bet. Online career certificates can be completed in a few months and cover a specific skill or two that can boost your resume. Whether you're looking to better understand Microsoft Office applications, or you need to sharpen your soft skills to pursue a leadership role, you can start and finish your career certificate on your terms, from home.
If you know you want to start a new career, join a completely different industry, or even start your own side business, enrolling in an online career diploma program makes sense. You'll take an entire course that is focused on the foundational skills and knowledge that many employers look for in industries like healthcare, trades, and more. Self-paced career diplomas can take anywhere from four months to a year to complete, depending on the program you're working on and how much time you can devote to your studies.
Undergraduate certificate programs can be great for students who aren't sure what they want to do in college, are looking to add additional, career specific knowledge to their experience, or just love learning. Formatted like a full college semester, students in online undergraduate certificate programs usually take three to nine months to complete their courses.
Take the next step toward your goals with Penn Foster.
No matter what program is right for you, or what you want to accomplish, Penn Foster's self-paced, flexible courses could be a good fit for your goals. Whether it's an online career certificate, career diploma, or undergraduate certificate, you'll be able to add education and skills to your resume on your schedule. Not sure where to start? Call to speak with an Admissions Specialist today at 1-888-427-6500.