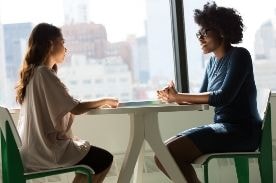 What do hiring managers look for in job applicants?
It's assumed that employers and hiring managers only want job applicants that have a specific list of skills, education, or licenses that are relevant to the position they're applying for. But, outside of certain very technical industries, that's not always the case. Hiring managers look for personality traits, behavior, and skills that can't always be listed on paper. Here's what employers are looking for in 2020.
The skills that aren't always found on your resume.
Employers often need more information than what's on your resume to determine if you'll be a good fit for the company. Even in an interview, it can be tough to figure out what type of person they're looking for, outside of any education or work experience requirements. With that in mind, how can you prepare to make the best first impression and show them that you're the one and only for the role? Getting familiar with some traits that are vital to any and every sort of business can make a difference. Traits that employers value include
Dependability. Many tasks and processes can be taught to new hires during their training period, but being dependable isn't one of them. Having employees who show up for their shifts on time and complete their assigned work to the best of their ability is expected from day one. In fact, in a survey from the Society of Human Resource Management, 97% of HR professionals said dependability and reliability are extremely important qualities for prospective hires. You can demonstrate dependability to a hiring manager during the interview process when you discuss past work experience...and show up on time!

Integrity. Usually defined as treating others with honesty, fairness, and respect, integrity is an important trait to employers. If you have integrity from day one, they can feel confident that you'll be an asset to the team. An interview is the best place to show this skill off. Be respectful and polite with your interviewer and, if given the opportunity, mention a time you've been faced with a decision that may have tested your integrity and how you handled it.

Teamwork. Even if your job is one in which you don't necessarily need to collaborate with your coworkers on a regular basis, being able to work well with others is a must. The ability to be part of a team is important to hiring managers, so when you're interviewing showing examples of your experience with teamwork is a plus.
Qualities that can impress your interviewer.
In an interview (and on your resume), you should always be yourself. But you also want to impress the person you're meeting with. The best way to that can often be showing them you have ambition and drive, and that you're willing to put in the work to be the best. Things hiring managers are looking to see during an interview include
Ambition. Interviewers often ask "where do you see yourself in five years?" It's a tough question to answer because you want to prove that you plan to work for the same company for the rest of your life, right? Not necessarily. Good employers want employees with ambition because those are the ones that will constantly work on their skills and performance, whether they intend to stay in the same job for one year or twenty.

Willing to learn. If you're not willing to learn and grow in whatever job you apply for, you're not going to make it to the next step in the hiring process. Employers and hiring managers want people who are willing to sharpen their skills on a regular basis and become familiar with the different responsibilities of the role. Willingness to learn is easier to demonstrate on a resume than many other skills, so if you've pursued industry specific certificate courses or classes that are relevant to the job you're applying for, list them clearly.

Proactive. Employers in most industries want workers who don't need to be told what to do, but instead jump in when they see work that can be done. Not only can being proactive at work help you get your tasks done, it can show your employer you're ready for leadership. In an interview, you can showcase this trait by asking detailed questions about the job description - you'll have a better understanding of the role and the person interviewing you will know you took the initiative to think about the job.
Strengthen your resume with flexible education.
Education doesn't guarantee you'll get a position you interview for, but it can help you strengthen your resume and show employers and hiring managers that you're committed to learning and growing. From short online certificates that can help you sharpen your current skills to degree programs that can help you prepare to start a new career, Penn Foster can help you build career confidence on your schedule. Reach out to an Admissions Specialist today for more information on the different programs that can help you take the next step toward your next best job at 1-888-427-6500!